Antique Iron
By Tom Jackson
A String of Pearls
David Rexing, a master mechanic with W.B. Koester, a highway and earthmoving company in Evansville, Indiana, shows off his vintage 1922 Cletrac F machine.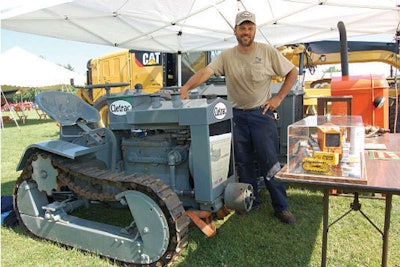 Cletrac was the trademarked name for the machines produced by Cleveland Tractor, founded in 1918, which merged with Oliver Farm Equipment in 1946.
The F model was known for its "string of pearls" design, which had no lower track wheels or idlers. In the photo you can see the string – a chain of rollers really – hanging below the stamped track shoes. Engines for the tiny tractor came from extras produced by the company's failed automobile, the Rollin Motor Car.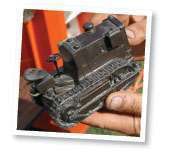 One of the key attributes of the Cletrac was its differential steering mechanism, which made it much easier to maneuver than other tractors. The inventor of the Cletrac, Rollin H. White, also invented a flash boiler to generate steam to power the motor rapidly and efficiently in his White Steam Cars.
Rexing says his interest in Cletrac dates back to the time he got a paperweight model (photo above right), also a lighter with a built-in match holder and strike plate. To restore the real machine he had to totally disassemble the unit and rebuild the rear end. To find vintage and antique parts for his Cletracs, Rexing says he's had good luck at tractorshed.com.
Rexing's display was part of the Historical Construction Equipment Association's annual convention held last summer in Penfield, Illinois. The HCEA will hold its next annual convention September 14-16 in Bowling Green, Ohio. To see more go to hcea.net.