Hire a Vet
Taking aim at the current 13.3-percent unemployment rate for Iraq and Afghanistan veterans, Congress is considering bills that may help contractors hire veterans.
The bills call for a retraining program for unemployed older veterans, would give veterans information on how to find a job, and offer tax credits and other incentives to employers to hire veterans.
If you're interested in hiring a veteran now, check out the Hire a Hero program at www.hireahero.org.
Bucyrus buy gives Cat 120-model boost
With Caterpillar's $8.8-billion purchase of Bucyrus International now final, the company gains about 120 models of surface and underground mining equipment, ranging from electric-powered trucks and draglines to scoops and jumbo drills. According to Cat:
• It will not eliminate Bucyrus products, since there was little overlap between the two companies.
• The current high demand for mining trucks – the one area where the two did have competing models – means truck plant consolidation will probably wait.
• Bucyrus' AC-drive mining trucks will be branded Unit Rig until they are transitioned to Cat components.
• Cat's global mining headquarters will now be in Milwaukee.
Cat also debuted a new website, mining.cat.com.
Big buys in April
Three pipeline contractors were among the top buyers of new financed construction equipment in April, according to Equipment Data Associates*.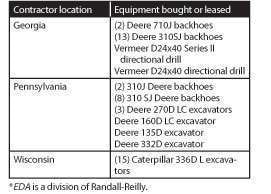 Texas tops theft report
Ten states accounted for 61 percent of all equipment thefts, according to the 2010 Equipment Theft Report, just released by National Equipment Register and the National Insurance Crime Bureau. Texas, Florida and North Carolina were the top states for equipment thefts, says the report, which examined more than 13,000 records from the National Crime Information Center's database. Equipment types most popular with thieves: skid steers, backhoes, excavators and wheel loaders. Go to www.ner.net/annual-theft-report.html for a copy of the report.
Only 19% of stolen equipment was recovered in 2010.
U.S. team tops at Volvo's Masters 2011
Billy Byers, Scotty Cox and James Dorton of the ASC dealership in Charlotte, North Carolina, and Roberto Bogdanoff, customer support training manager for Volvo Construction Equipment, bested more than 2,400 dealer employee entrants worldwide to take the top spot as the most skilled technicians at the Volvo Masters 2011 final. The team beat crews from Israel, Oman, Australia, Thailand and Great Britain.
In a competition that involved seven tasks involving work orders on a variety of equipment, each team had 15 minutes to discuss strategy and 90 minutes to complete the task. "It was a tough competition," Cox said. "To win this and beat some of the best mechanics in the world is a real privilege."
Digital exclusives for August
Marketplace Extra:
More new products including Pro-Tech's Sno Broom, Blastcrete's Mason Mate and more.
Weigh in …
Take our poll! Visit www.EquipmentWorld.com and scroll down the left side of the homepage.
Our current poll:
What's your top resource for industry news?
Results from our last poll:
Does your company perform disaster response work (75 respondents)?
n Yes; we currently perform disaster response work or have done so in the past.
n No; but we are considering adding disaster response to our services.
n No; our company is not interested in performing disaster response work.
Network with us!
Connect with EW on Facebook, LinkedIn and Twitter. Enter "Equipment World" in the search field, join the group or "like" EW and stay updated on news and events while networking with fellow industry members.
Subscribe to our YouTube channel!
www.youtube.com/equipmentworld.
Facebook page:
https://www.facebook.com/EquipmentWorld/
LinkedIn:
https://www.linkd.in/EWmagazine
Follow us on Twitter:
http://http://twitter.com/#!/ConstructList/lists/rrconstruction