By Equipment World Staff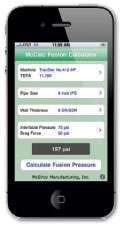 App calculates fusion pressure on the fly
McElroy customers, accustomed to using the company's online calculation tools such as downloadable software and tutorials, began asking the company for an app they could use to quickly calculate fusion pressure on the jobsite.
In response, in-house software developers created a free pipe fusion calculator application for Apple iPhone, iPod touch and iPad. Available through the iTunes App Store, McCalc Fusion Pressure Calculator helps operators find the ideal fusion pressure calculations without time-consuming manual calculation in an easy-to-use interface. The app mimics McElroy's online tools supplied to contractors in the past.
The app allows users to key pipe sizes, interfacial and drag pressures and wall thickness in a variety of measurements and units, and calculates the ideal fusion pressure in seconds. A simple "Learn to Calculate" section of the app teaches users how to manually calculate the fusion pressure, if necessary.
"Every pipe fusion job requires these calculations to ensure quality fusion joints," says Joe Perrault, McElroy's Management Information Systems (MIS) manager. "The McCalc application just adds a level of convenience in the field, particularly as more contractors have started using iPhones." The company plans to expand its Apple presence by creating other applications to be used in the field and on the iPad.
"I definitely think we'll see more and more manufacturers using this channel for applications," says Perrault.
– Allison Cook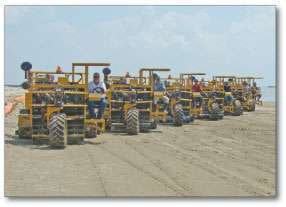 Clean fleet
Staff members from Cherrington Beachcleaners' manufacturing facility in Clarissa, Minnesota, took eight of the company's machines to Grand Isle, Louisiana, to help with sifting and screening beach sand affected by the Gulf oil spill.
Word for Word
"If the administration believes that it is unrealistic to require the police to act as immigration agents, certainly the same can be said for employers who act in good faith to ensure that their workers are here legally."
– The National Utility Contractors Association about the Department of Justice's challenge to Arizona's immigration law.
"I think it's a combination of people actually settling down on the economy and figuring out that the sky is not falling, and people understanding that if it's time to leverage or borrow money, the rates are low."
– Land consultant Corey Vogel to the San Antonio Express-News about a sudden spike in development.
"A successful man is one who can lay a firm foundation with the bricks others have thrown at him."
– David Brinkley (1920-2003), American newscaster.