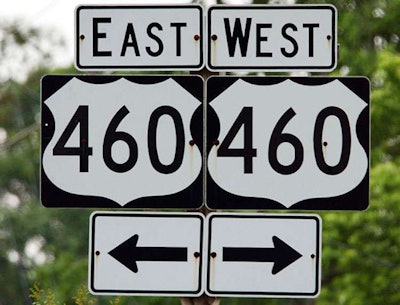 The Virginia Department of Transportation (VDOT) has end its agreement with US 460 Mobility Partners LLC over the lack of work done on U.S. 460, a 55-mile highway project that would have cost an estimated $300 million, according to a report by the Richmond Times-Dispatch.
Contract work on the project was stopped back in March 2015 because the U.S. Army Corps of Engineers wouldn't give a permit for the project due to concerns about impacts to wetlands along the route.
"The Virginia Department of Transportation, with the support of the (Gov. Terry) McAuliffe administration, has provided a notice of termination to US 460 Mobility Partners for Route 460 construction," said Transportation Sec. Aubrey L. Layne Jr. said in a VDOT statement.
"The Commonwealth has determined it is in the taxpayers' best interest to terminate the contract. VDOT tried to work with the contractor to deliver the revised project in a cost effective manner. These efforts proved unsuccessful. The state will aggressively pursue all options available to do what is best for the public interest."
The state has paid the group, which was part of a consortium of American Infrastructure/Allan Myers, $252 million since winning the contract in 2012, according to the Richmond Times-Dispatch report. The previous transportation secretary had agreed to put the "permitting burden and project risk" on VDOT, rather than the contractor.
VDOT said it plans to continue and complete the environmental work for the project. The state's Transportation Board in February approved a 17-mile alternate route, which will extent from Suffolk to Zuni, for improvements on the U.S. 460 corridor. "VDOT and its federal partners identified that this alternative has the possibility of qualifying for a permit," the department said in a statement. "The next step is to conduct public outreach on this alternative."