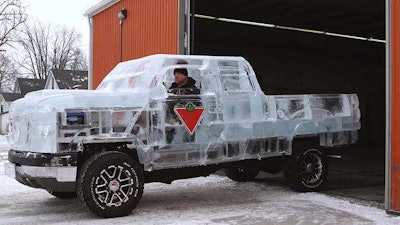 Were you affected by the polar vortex that brought sub-zero temperatures to some parts of the U.S. this week? In Chicago, temperatures dropped to as low as -45 degrees Fahrenheit. Thank goodness for heaters, right?
But what if the vehicle you were driving was -40 degrees cold and you couldn't turn on a heater? That was the case for the man who recently drove a truck made of ice.
[youtube rrFRaviVyQU nolink]
Our sister site Total Landscape Care reports that Canadian Tire created the truck as a way to test one of their car batteries to see if it could withstand extremely cold temperatures.
The Canadian Tire team used the chassis of 2005 Chevy Silverado 2500 as a base for the truck, completely rebuilding the frame with giant blocks of ice.
The team, along with ice construction company Iceculture, created the ice truck using 14,000 pounds of ice.
In a behind-the-scenes video, the crew notes that the truck was welded rigid to prevent cracking and that they added extra coolant to the engine to prevent the ice from melting too quickly.
Watch the video above to see the crew build and drive the ice truck.