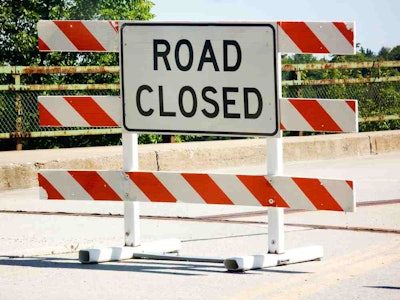 U.S. House Democrats are calling for a $760 billion boost in infrastructure funding over the next five years but want to hear from the White House first before discussing how to pay for it.
"This framework is an opportunity to get our existing infrastructure working again and fund new transformative projects that will create an estimated 10 million jobs, while reducing carbon pollution, dramatically improving safety and spurring economic activity," says the party's Moving Forward Framework.
The proposal includes $319 billion for highway funding, $105 billion for public transit and $10 billion for highway safety. Democrats say it would bring infrastructure into good repair, set a path toward zero carbon pollution from the transportation sector, and invest in energy efficiency and reduced greenhouse-gas pollution.
Rep. Richard Neal, chairman of the House Ways and Means Committee, said Democrats hope to reach a bipartisan deal on infrastructure and on funding it.
"I think it's really important that we not volunteer a revenue stream until the administration reaches an agreement with us," Neal said at a press conference, as reported by The Hill. "I think what we're looking for here is an agreement that we can then take to the public between the two sides about how best to pay for it, so there's not one-upmanship."
Some House Republicans said they were also prepared for bipartisan work on infrastructure and wanted to make sure GOP principles were incorporated, according to a statement from Republican members of the Committee on Transportation and Infrastructure.
"Infrastructure remains an issue on which Congress can get something done, and that's what our constituents expect us to do," said Rep. Sam Graves, ranking member on the committee. "Committee Republicans stand ready to work with our Democratic colleagues to pass a bill that can earn bipartisan support and the President's signature."
GOP principles include finding a long-term funding solution for the Highway Trust Fund beyond fuel taxes as a primary source, getting more transportation funding to rural communities, and giving states and local governments more control over how the federal money is spent, according to the statement.
Dave Bauer, president and CEO of the American Road & Transportation Builders Association, said in a statement that "the proposals from Democrats and Republicans provide an important foundation for the chamber to deliver on the infrastructure vision both parties have articulated since the 2016 elections."
Bauer hoped the House, the Senate and the White House could reach agreement on a plan and how to fund it.
"We urge infrastructure supporters and all relevant committees to work with the Ways & Means Committee to develop and support the robust revenue plan necessary to turn years of infrastructure visions into reality," he said.
Both Democrats and Republicans, as well as President Donald Trump, have long said they agree on the need to address the nation's infrastructure, but the main sticking point continues to be how to pay for it. The recent proposal from the Democrats comes about eight months after talks over a possible $2 trillion infrastructure plan fell apart when Trump said he would no longer deal with Democrats until they stopped investigations into his administration and approved his trade deal with Canada and Mexico to replace North American Free Trade Agreement.
The NAFTA replacement, known as the United States-Mexico-Canada Agreement (USMCA), was signed January 29 by Trump. It appears the impeachment trial is also wrapping up.
The question now becomes whether House Democrats and Trump can broker a deal acceptable to the GOP-controlled Senate where Republican members have stated opposition to a gas-tax increase.