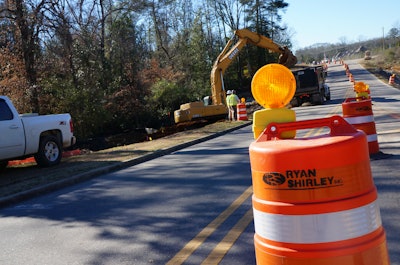 Fears that $7.6 billion in federal funding to states would be rescinded next July have been put to rest, as part of a deal Congress passed and was signed by President Trump on November 21 to keep the federal government funded for another month.
The emergency legislation, called a continuing resolution, includes keeping alive full funding of the FAST Act program, which provides annual allotments to states for highway and other transportation projects.
The Fixing America's Surface Transportation Act was set to rescind any money that had not been obligated by states by July 1, 2020. That comes to about $7.6 billion spread among the 50 states and the District of Columbia. States stood to lose multimillion-dollar funding, ranging from $900 million for Texas to $4.4 million for South Dakota. (To see a breakdown recently released by the Federal Highway Administration of how much each state would have lost from rescission, click here.)
Various business and industry groups, including those representing construction and roadbuilding contractors, have been urging Congress to act quickly so state departments of transportation could continue with plans for highway and other transportation projects, and not face funding shortfalls should the money be pulled back from the states.
"By cancelling the rescission as part of this week's continuing resolution, Congress will both keep the government open and keep state highway programs on track," said Audrey Copeland, National Asphalt Pavement Association president and CEO.
The continuing resolution to keep the government running through December 20 passed the House on Tuesday and the Senate on Thursday before the government-shutdown deadline of November 21. Trump signed it just hours before the shutdown deadline. The continuing resolution includes repealing the rescission language in the FAST Act.
"The resolution of this issue comes at a time when states are preparing their budgets for the coming construction season, eliminating potential uncertainty that could have delayed important transportation infrastructure investments," said Jim Tymon, executive director of the American Association of State Highway and Transportation Officials (AASHTO).
Copeland and others noted, though, that the repeal was only a short-term victory, as Congress still has not approved transportation funding for next fiscal year or set in place a long-term funding mechanism to improve the nation's infrastructure. The resolution keeps current funding levels through December 20, when Congress faces another shutdown deadline.
"This is a positive step, but it only addresses short-term needs," Copeland said. "NAPA urges Congress to move forward with full reauthorization of the nation's surface transportation programs." She also called on Congress "to make passage of a robustly funded, long-term surface transportation program a priority."
It appears the Senate and House negotiators are close to an agreement on next fiscal year transportation spending levels and other federal department funding levels, according to Dean Franks, senior vice president of congressional relations with the American Road & Transportation Builders Association. The transportation and other budget bills are still in appropriations subcommittees.
Whether a vote will occur on the full federal government budget or on another stopgap measure before the December 20 shutdown deadline is still uncertain. But Franks said "ARTBA will continue working with members and staff on Capitol Hill, and partner organizations, to ensure a final, FY 2020 bill is enacted before December 20."
Editor's note: This story was updated with the Senate's passage of the continuing resolution on November 21 and President Trump's signature.