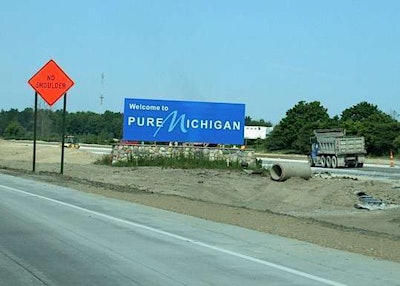 The Democratic governor's veto of more money for transportation infrastructure comes after she asked the Republican-controlled Legislature to raise $2.5 billion in new taxes to support roads and schools.
Whitmer vetoed nearly all of the $400 million that Republican lawmakers wanted to spend on a one-time boost in funding for road agencies, including $68 million to replace four crumbling bridges, one of which will need $50 million in order to be replaced.
"Instead of working this out together, the governor decided to play political games and walk away from negotiations," House Speaker Lee Chatfield (R-Levering) said in a statement, according to the news agency. "Her tactics wasted everybody's time and manufactured a crisis out of thin air. I hope it was worth it."
Whitmer and legislators have been at odds for months over road funding, but both sides had agreed to remove a long-term road-funding plan from the annual state budget. However, negotiations broke down again when Republican lawmakers insisted on redirecting $400 million in surplus funds to a one-time boost in spending on roads and bridges for a 45-cents-per-gallon fuel tax hike. Before Whitmer's line-item veto, the overall spending plan included $5.3 billion for roads, a record amount for transportation infrastructure.