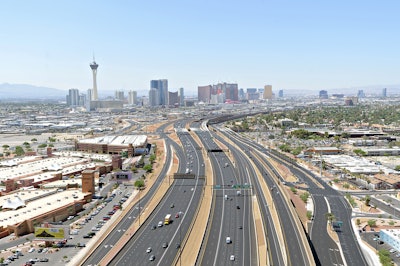 The three-year, $1 billion widening of Interstate 15 in Las Vegas and the addition of 20 miles of HOV lanes is almost completed, with a grand finale ribbon-cutting planned for August 8 to wrap up the most expensive public works project in Nevada history.
Project Neon, as it has been dubbed, consists of 63 lane miles of concrete and asphalt paving, 29 new bridges and 20-plus miles of high occupancy vehicle lanes, according to the Nevada Department of Transportation.
Along with addressing traffic congestion on the state's busiest freeway, the project also created 4,000 jobs, either directly or indirectly, says NDOT.
One of the hallmarks of the project is a reconfigured full diamond interchange at Charleston Boulevard with a new I-15 northbound offramp, according to the agency. The project also includes 42 active traffic management signs that are undergoing testing. The improved freeway system also reduces merge and weave traffic.
The 4-mile stretch of freeway handles about 300,000 cars a day, with that amount expected to double during the next two decades, NDOT says.