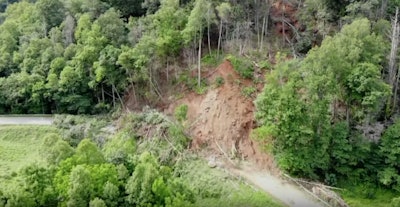 A huge landslide in Henderson County, North Carolina, shut down busy State Highway 9, with tons of mud and trees flowing across both lanes about 4 a.m. Tuesday.
Then, about 2,000 people were evacuated Wednesday after emergency managers warned the Lake Tahoma dam in western North Carolina was in danger of "imminent failure."
Heavy rain triggered landslides at the dam. The National Weather Service said "evacuees are being asked to flee," news outlets reported.
Broad River Fire and Rescue reported the early morning landslide June 5, posting on Facebook that "one of our main roads for mutual aid, EMS and law enforcement is closed."
The department said the slide fell near the intersection of Shumont Road, and also forced the closing of nearby Morgan Hill Road, which has since reopened.
State officials told TV station WSPA that the mountain of debris is at least 600 feet tall, 300 to 400 feet wide and dangerous, with the possibility of more earth movement taking down more trees.
Neighbors heard a big crash and then watched in disbelief, as trees, debris and items slid downstream past their homes. Weeks of rain had saturated the ground, and gravity and loose rock now worry state transportation workers.
Engineers can't predict if the massive landslide will trigger again, given the instability of the dirt in the area, but officials are worked to secure it.
Another station, WBTV Fox Channel 3, reports that a geotech unit was called in,
That unit will investigate how to clear the land safety and determine how best to stabilize the land and prevent further slides, the station reports.
Governor earlier declares state of emergency
North Carolina Gov. Roy Cooper declared a state of emergency for western North Carolina May 30 after a series of mudslides closed portions of Interstate 40 and other roads.
Cooper's emergency declaration expands the Federal Motor Carrier Safety Administration's regional emergency declaration for the states of Florida, Alabama, Mississippi, Louisiana, Arkansas, Tennessee, and Texas in preparation for Alberto's landfall. Among problems were a potential fuel shortage.
According to the Governor's office, subtropical storm Alberto brought sustained rains to North Carolina on May 27.
Then, a mudslide forced parts of I-40 to shut down in McDowell County the night of Tuesday, June 5, covering hundreds of feet of highway.
With scattered showers and thunderstorms continuing, there are concerns for the continuing stability of mountain slopes and several dams. Local and state officials are closely monitoring dams at Lake Lure, Lake Tahoma, Lake Tuxedo and North Fork Lake. They are sending state dam safety engineers to areas of concern.
At the Buncombe-McDowell County line, officials say, two westbound lanes and one eastbound lane of Interstate 40 near Mile Marker 67 were closed by the mudslide June 5. They were reopened by 5 a.m. the next day.
Five vehicles were caught in the mud but no injuries were reported. Transportation crews worked through the night to clear debris from the road. By 2 a.m. June 6, crews restored two lanes in the eastbound direction and one lane in the westbound direction, officials report.
The North Carolina Department of Transportation published drone footage of the mudslide's aftermath on its Twitter account on Wednesday. NCDOT is also posting a running list of highway and primary road closures here.
More than 50 roads across western North Carolina remained closed Thursday as a result of heavy rain from Alberto during the last few days.
Some areas of the mountains have received more than 20 inches of rain this month, which has swelled rivers over their banks, washed out roads and bridges, and started landslides of various sizes.
State transportation officials are urging drivers to stay away from flooded roads and be especially cautious when driving in the mountains where the potential for landslides and road washouts continues.
Road conditions will change throughout the day. Some roads may reopen after water recedes or small slides are cleared. It's also possible for road conditions to deteriorate and other roads to be closed. For the latest road closures, visit DriveNC.gov.
N.C. Department of Transportation crews from Cherokee County to Surry County were responding to incidents at all hours of the day.
Since the rains and mudslides, employees have been assessing damage, removing debris, cleaning ditches, clearing pipes and performing tasks essential to getting the roads open.
Crews were returning to perform finishing touches to restore the roads, ditches and bridges.