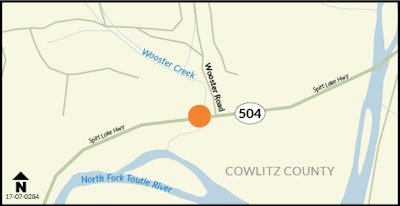 A project to remove a failing culvert and replace it with a wider bridge will help drivers in Wooster Creek, Washington, but also help the fish.
During heavy rains, the culvert blocks water flow and causes the Spirit Lake Memorial Highway (State Route 504) to flood.
Hamilton Construction won the contract for the $4.8 million project to remove the 54-inch culvert and build a 20-foot span bridge. After the bridge is constructed, a natural creek bed will be built under the highway to improve fish movement.
On October 2, the Washington State Department of Transportation closed lanes of SR 504 east of Toutle to start construction on the project. A detour was set up to shift traffic to the north side of the road. The detour is controlled by automated signal, the WDOT says.
The project is expected to be completed next fall.