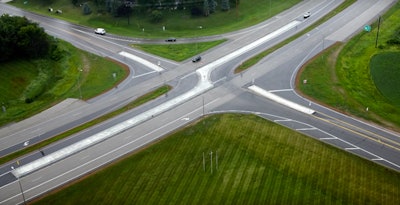 The Minnesota Department of Transportation (MnDOT) says a new safety study shows Reduced Conflict Intersections (RCI) are saving lives and reducing injuries.
These multi-lane highway intersections allow drivers to turn right from a smaller roadway onto a higher speed road and make a u-turn at an opening in the median. However, RCIs do not allow drivers to make left turns onto the highway.
Intersections without an RCI design typically have more severe right-angle crashes, MnDOT says.
The eight RCIs reviewed as part of the study showed a 100-percent reduction of fatal and serious injury right-angle crashes, 77 percent fewer all severity right-angle crashes and a 50 percent reduction of injury crashes.
"RCIs prevents drivers on the minor road from exposing themselves to the most common type of severe crash, the right-angle crash," says Derek Leuer, assistant state traffic safety engineer. "Drivers complete a series of driving maneuvers that reduce their probability of a severe crash and the risk of a death or serious injury."
The first RCI in the state was built in Willmar in 2010 and MnDOT is planning to build more than 20 additional RCIs in the next five years.
"Reduced conflict intersections have firmly shown to reduce deaths, injuries and crashes. That's why we want to keep building them," Lauer says. "The other benefits are that they are faster to build and cost less than a typical interchange."
The MnDOT RCI study is available in PDF form here and more information on RCIs can be found on the MnDOT website.