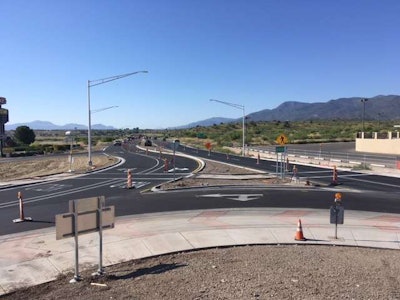 The Arizona DOT (ADOT) has opened to traffic its newest roundabout east of Interstate 17 in Camp Verde, an area about 90 miles north of Phoenix.
The $1.3 million project is located at the intersection of SR 260 and Industrial Drive, a busy area ADOT says is popular with I-17 travelers for gas and food. Before the roundabout, the agency says the area had limited traffic movements due to congestion.
The project also included sidewalks added to the north side of SR 260 between Cliffs Parkway and Main Street, and on the south side of SR 260 between Seventh Street and Main Street.
ADOT says work to be completed on the project includes landscaping and electrical work, to be completed in the next few weeks, along with permanent striping to be finished later this summer.