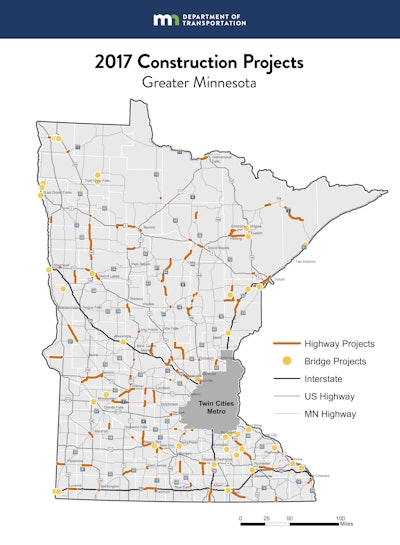 The Minnesota Department of Transportation (MnDOT) plans to work on 211 bridge and road projects valued at $1 billion this year.
"While this year's program is comparable in dollar value to last year's, we are seeing fewer projects. And, in the coming years, we will also see the funding that is available to invest will decrease because of inflation and flattening revenue streams," says MnDOT Transportation Commissioner Charlie Zelle.
Zelle reports planned construction for the year also includes more than 57 multimodal projects, such as airport, port and railroad projects, valued at $47 million.
MnDOT says two of the main projects for 2017 include completing the St. Croix River Crossing, which connects Stillwater, Minnesota, and St. Joseph, Wisconsin, and work that relocates Highway 53 in Virginia, Minnesota, which also involves building what would be the tallest bridge in the state.
Other major projects in the Twin Cities area include: Interstate 94, Minneapolis to Brooklyn Center; I-94, St. Paul to Maplewood; I-35 West/Lake Street in Minneapolis; Highway 169; and I-694 in Arden Hills, Shoreview, Vadnais Heights and Little Canada.
The complete list of projects, with details such as traffic impacts and dates for construction, is available at mndot.gov/construction.