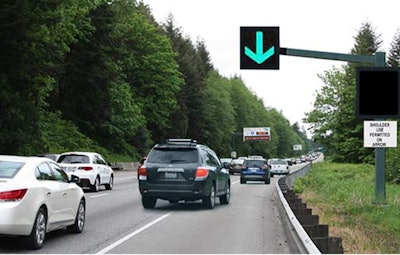 The Washington State Department of Transportation (WSDOT) has selected Graham Contracting of Bellevue, Washington, as the design-build contractor for the Interstate 405 Northbound Peak-Use Shoulder Lane project.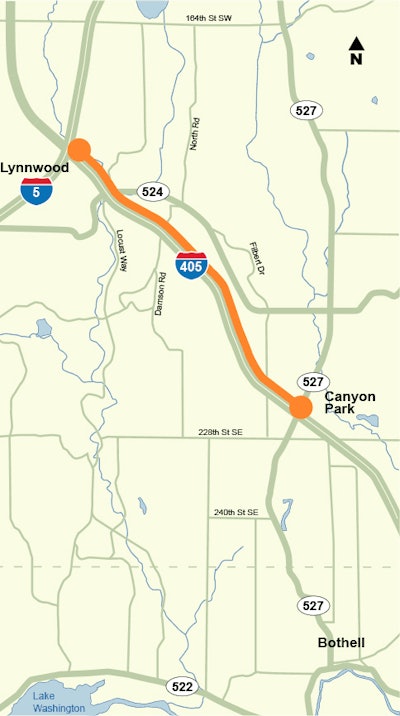 It is the first project funded by I-405 express toll lanes revenue, which has helped speed up the project's timeline. Originally funded by the state legislature with an expected opening date of 2018, WSDOT says it is able to begin construction at least six months earlier with the toll revenue. Now it is expected to open to traffic in summer 2017.
The project will allow all drivers to use the right shoulder as a lane during congested traffic. The $7.3 million project involves work on 1.8 miles of roadway on northbound I-405 between SR 527 in Bothel and I-5 in Lynnwood. It will include restriping the roadway, adding new pavement in certain areas, installing signage and building a new noise wall.
WSDOT says overhead lane control signs will notify motorists when the lane is available for use, which they expect will be during the weekday afternoon commute.
"We're continuing to see population growth in our region, and this section of I-405 struggles to handle all of the increasing demand," says Kim Henry, I-405/SR 167 project director. "Our long-term plan calls for additional improvements in this area. In the short-term, we're pleased that we can accelerate this project and help bring some relief to north end commuters sooner than originally scheduled."
WSDOT says it will sign the contract with Graham Contracting in early December to proceed with design and construction work.