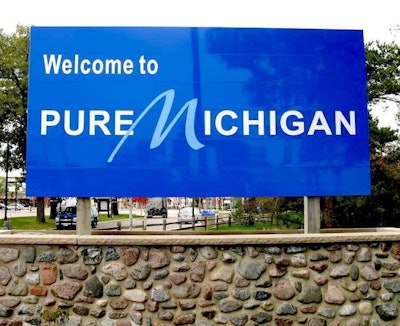 The Michigan Department of Transportation (MDOT) has presented the 2016 Director's Award, the top staff award the agency gives, to three employees for 2016.
The annual award has been given for more than 20 years as a means of recognizing staff members who "exhibit leadership and exemplary public service."
Doug Noble was presented the award in the skilled crafts and labor/safety, supervisor category. He oversees winter emergency operations in MDOT's Superior Region, including the Upper Peninsula. He is "careful to balance the transportation needs of the customer with the priority of safe travel," the agency says.
Noble was cited for his work during the winter of 2013-2014 when he coordinated multiple plow crews, provided ongoing weather monitoring and coordinated with local law enforcement and search and rescue teams.
"As a committed and passionate leader, Doug effectively navigates difficult situations and manages staff with confidence and respect," Transportation Director Kirk Steudle says. "While I am proud of our entire workforce, Director's Award recipients like Doug stand out because they are nominated by their peers for this special recognition."
Christopher Idusuyi was honored in the professional, specialist category. Idusuyi is based in Lansing and was recognized for his ability to identify innovative solutions during his MDOT career. The agency says a prime example is his work on the M-28 bridge over the Presque Isle River in Gogebic County. On that project, Idusuyi was able to secure the use of ground-penetrating radar to be used on a "somewhat risky repair method" that allowed the crew to "safely complete the repair and prevent any impact on M-28 traffic or the logging industry of the region."
"MDOT employees are committed to keeping Michigan's transportation system moving smoothly for residents and businesses," Steudle says. "Excellent problem-solvers like Christopher don't look for the easy route, but rather solutions that are best for the customer."
Chris Youngs of Hastings was recognized in the professional, supervisor category. Youngs was honored for his work with the Federal Highway Administration (FHWA) in streamlining the approval and reporting process for SEP-14 projects (alternative contracting projects). He developed an application template and implemented a programmatic approach to capital preventative maintenance, which "significantly" reduced FHWA's processing time of SEP-14 applications, MDOT says. Because of this effort, FHWA is directing other state agencies to use sample work plans and reports from the state.
"Chris' significant contributions have ultimately changed the way MDOT does business and have brought the department to the forefront of alternative contract delivery methods," Steudle says.
MDOT says its employees nominate their peers for the Director's Award, but committees of workers from each category make the final recommendations to the agency.