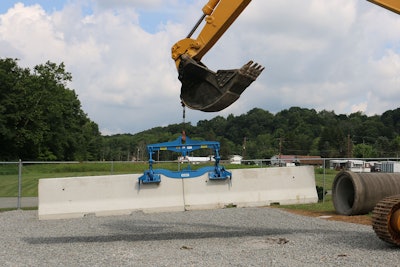 Kenco's new Dual Lift attachment can lift and move two barrier walls at a time and is fully automatic for hands-free operation, the company says.
The Dual Lift can grip a barrier when it is set down and releases only when it has been placed into position. Kenco says the attachment can fit "any type or model" of machines with lifting capabilities, and doesn't require additional hydraulics to be attached. A sling and shackle assembly is required for hook up.
The attachment's design includes alignment legs extending from one side to allow the operator to guide it onto the barrier. Swiveling pad angles match the slope of the barrier, and the elastomer pads securely grip the barriers wet or dry, the company says.