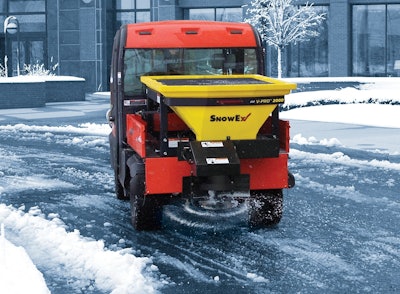 SnowEx has launched the V-Pro 2000 bulk spreader for small snow and ice control applications, such as on sidewalks and driveways. It is designed to fit most UTV bed configurations.
The spreader's hopper has a capacity of 11 cubic feet and features a multi-angled hopper designed to create a "vortex" when material flows from the top to the auger. The company says this helps prevent bridging and clogging of salt or sand/salt mixtures.
Polyethylene material helps resist corrosion and reduces total weight of the V-Pro 2000 to 280 pounds, SnowEx says.
Other features include a quick-connect spinner drive assembly, a direct drive system for the auger, a cab-mounted dual variable speed controller and a top screen designed to keep large clumps out of the hopper.
The V-Pro 2000 has an adjustable spread pattern up to 30 feet and can be optionally accessorized with a pre-wet liquid tank system.