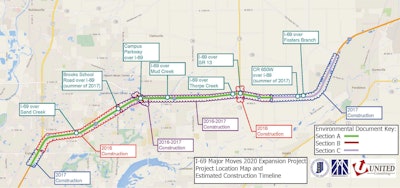 Indiana Gov. Mike Pence and other state and local officials officially launched the start of $92 million in widening and exit redesign work on Interstate 69 between Indianapolis and Muncie in Hamilton and Madison counties. The project is part of the Major Moves 2020 program.
As part of the project, Milestone Contractors will widen 15 miles of the interstate between the towns of Fishers and Pendleton, as well as the reconfigure of Exit 210 at Campus/Southeastern Parkway into a double-crossover diamond.
"Here in the Crossroads of America, we know that roads mean jobs," Pence says. "Along this section of I-69, we've seen tremendous economic development and it is vital that we modernize this portion of the highway to ensure continued economic growth. My administration has invested nearly $3 billion in roads and bridges across Indiana since I became governor, and I firmly believe that by continuing to invest in infrastructure, we can make Indiana the best place in America to start a business, grow a business and create jobs."
More details on the project are available at https://www.in.gov/indot/3440.htm.
Another Major Moves 2020 project involves rehabilitating and widening of sections of I-65, including between Indiana 44 near Franklin to the Johnson/Marion county line, between Indiana 38 to Indiana 26 near Lafayette in Tippecanoe County and I-65 between Sellersburg and Memphis in Clark County.