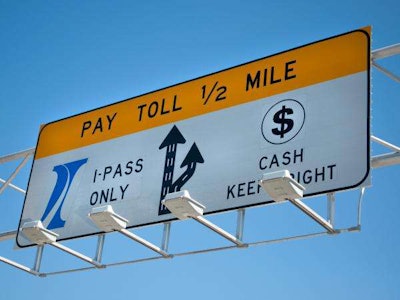 The Illinois Tollway approved $2 million for two new construction contracts and $24.4 million for an engineering services contract at its recent June meeting, bringing the yearly total for contracts in these areas to $179 million.
"The construction contracts are small business set-aside contracts awarded as part of the Tollway's Small Business Initiative, including one new prime and one new firm to the tollway," the organization says. "The Illinois Tollway Small Business Initiative puts small businesses in a position to succeed and grow as prime contractors and includes identifying select construction contracts, generally with values of approximately $1 million, that can be set aside specifically for small businesses."
The construction contractions include:
$1.3 million for parking lot removal and replacement at the Hillside (M-2) maintenance site on the Tri-State Tollway (Interstate 294). Contractor: JG Demo Inc., Addison, Illinois.
$726,983 for removal of buildings and site restoration for the Elgin O'Hare Western Access Project on I-294. Contractor: Accel Construction Services Group, Chicago, Illinois.
The professional engineering services contract was awarded to Alfred Benesch & Company, Christopher B. Burke Engineering and Lin Engineering, Chicago, Illinois, for design services for the Elgin O'Hare Western Access Project, for work from I-294 to Franklin Avenue/Green Street and for the North Avenue Interchange at I-294.
Illinois Tollway says nearly $8.4 billion, roughly 32 percent, of the $26.4 million in awarded contracts is committed to veteran owned, small or disadvantaged firms.