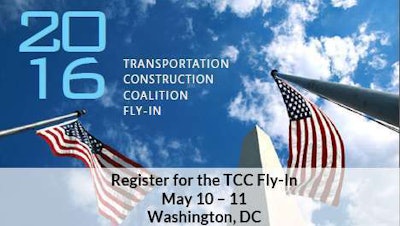 This year's Transportation Construction Coalition (TCC) Fly-In, being held May 10-11 at the Hyatt Regency Washington at 400 New Jersey Ave. NW in Washington, D.C., is filling up fast, according to a National Stone, Sand & Gravel Association (NSSGA) press release.
Everyone is encouraged to join with colleagues to advocate for the industry at the fly-in. Although a five-year highway bill, the FAST Act, was signed into law in December 2015, this year's fly-in will be critical to bring attention to the need for future funding options for the Highway Trust Fund.
The second annual Highway Materials Group (HMG) meeting will be held prior to the start of the fly-in on May 10 from 10 a.m. until noon at the Hyatt Regency. The HMG (the American Coal Ash Association, American Concrete Pavement Association, American Traffic Safety Services Association, Associated Equipment Distributors, Association of Equipment Manufacturers, Concrete Reinforcing Steel Institute, National Asphalt Pavement Association, National Ready-Mixed Concrete Association, NSSGA, and Portland Cement Association) ensures that the voice of the construction materials sector to the surface transportation reauthorization is heard.
RSVP for the HMG meeting to NSSGA's Michelle Miller at mmiller@nssga.org or 703-526-1063.
Click here to create a new account and register for the TCC Fly-In. The room block at the Hyatt Regency Washington is full, but there are rooms available in nearby hotels, including the Liaison Capitol Hill Hotel, Washington Court Hotel, Hotel George, Washington D.C. Marriott Marquis, Renaissance Washington Hotel, Grand Hyatt Washington, and Washington Marriott Metro Center.
See the TCC Fly-In brochure for more information about the event.