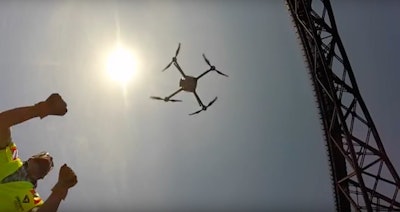 State departments of transportation are increasing their use of drones for inspections and data collection, providing a direct bottom line result of cost savings, according to a recent report by the American Association of State Highway and Transportation Officials (AASHTO).
AASHTO found that 17 state transportation agencies have studied the use of drones, while 16 state agencies were either exploring drone usage, working on creating policies for drone use or were supporting drone research. The association reported its findings in an episode of its Transportation TV video series, which can be watched below.
The Michigan Department of Transportation (MDOT) begins a two-year study of drone use this spring, a follow up to an 18-month research project the agency completed with the Michigan Tech Research Institute two years ago.
"Our first study looked at the viability and what we found out is that the unmanned aerial vehicle provided a mechanism to keep our workers out of harm's way," MDOT Engineer of Operations and Maintenance Steven Cook says in the AASHTO report. "A traditional bridge inspection for example typically involves setting up work zones, detouring traffic and using heavy equipment. The UAV's can get in and get out quickly, capturing data in near real-time and causing less distraction and inconvenience to drivers."
In a fact sheet AASHTO created to accompany the survey report, the association found that using a drone for a standard bridge inspection could costs as little as $250, compared to roughly $4,600 for traditional means.
Minnesota Department of Transportation's Cassandra Isackson, who serves as director of aeronautics for the agency, says MDOT has been examining the use of drones for multiple uses for some time.
"In addition to operating the highway system MnDOT is in charge of aviation as well, so we've been looking at drones from the perspective of commercial operators, businesses, everyone out there using them," she explains. "The highway side of MnDOT has been exploring them for potential cost savings for things like bridge inspections, surveying, and aerial photography."
AASHTO reports it is planning drone technology webinars and is conducting a peer exchange during its spring meeting in Des Moines.