Roadtec has launched its first side paver here at World of Asphalt in Nashville, a machine that can be used for road widening, shoulder work, maintenance and repair applications and more.
The new BF400, which has been available in Germany for several years and is manufactured by Roadtec partner Astec Industries, features a conveyor belt that is heat resistant up to 356 degrees Fahrenheit and accepts soil, gravel, asphalt and lean concrete. The material hopper is wide enough to receive all sizes of trucks.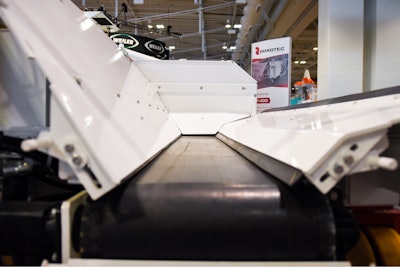 In use this small paver is pushed forward by a wheel loader while a 25-horsepower Kubota diesel provides power to its hydraulics and belt. It features a hydraulically extendable screed with a working width from 0 to 6.5 feet. With extensions, the BF400 can reach nearly 10 feet. Full specs are below.
Material is dumped into the main hopper as the conveyor belt pushes it off to the side. A knock-off plate levels out the material. Kyle Neissen, Roadtec product manager for pavers and the Shuttle Buggy material transfer vehicles, says the machine does well at slinging material too.
"At up to roughly 10 feet when you're doing a full pass you can sling it all the way out and you get a decent head of material," he says. "I won't say it's the best head of material you've ever seen when compared to that of a full paver, but it gets the material all the way across."
Neissen says the machine is designed primarily as a low cost way for adding a shoulder onto an existing road, though the company has heard from customers in Florida who are interested in building medians with the machine since it can lay material 12 inches below or above grade and at an angle of 15 percent up or down.
"Their median design raises 5 degrees off of pavement and then they set the jersey barrier down so they're using it to build center lane instead of a shoulder," Neissen says.
Depending on layer thickness laydown speed is between 49 and 164 feet per minute.