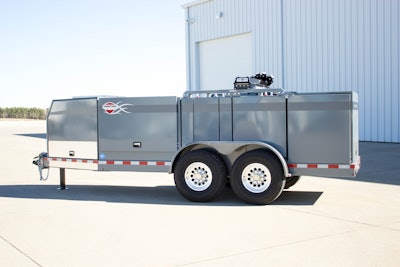 Thunder Creek has updated its Service and Lube Trailer (SLT) with features from its other line of trailers, including a new chassis, front-end design to allow for better turning radius, expanded storage and modular options. The company launched the new trailer at the 2016 World of Asphalt in Nashville.
The modular tank design can hold up to 440 gallons of fluid in eight tanks ranging in size from 25 to 110 gallons, including tanks for diesel, oil delivery, used oil reclamation, grease delivery, antifreeze, DEF and other maintenance fluids.
The redesigned front end also allows space for an additional 100-gallon DEF storage tank and the company's 2-in-1 closed DEF distribution system.
This redesign added 23 percent more space through the front enclosure and a 56 percent larger rear utility box. Both additions allow for additional toolboxes, workbenches, grease delivery systems and more fluid capacity.
"The Thunder Creek SLT provides a significantly lower total cost of ownership compared to full-sized lube trucks with similar capacities and functions," says General Manager Luke Van Wyk. "We give equipment managers the flexibility to customize their trailer with up to eight fluids, plus separate solutions for DEF and grease in the newly expanded front and rear compartments. All together, it is one of the most comprehensive field maintenance solutions available to heavy equipment fleet operations today."
The SLT is available with either a combination air compressor/generator or 3-in-1 welder/generator/air compressor, which helps power pneumatic pumps for fluid delivery and other tools. The WorkSight Light Tower with LED lights also is another option.