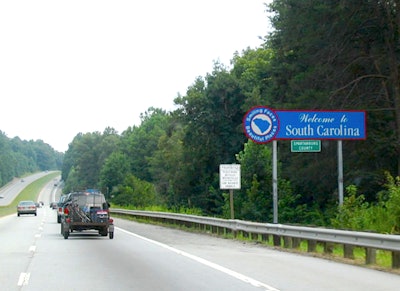 South Carolina lawmakers are close to passing a much-needed transportation funding bill, but the head of the state's Department of Transportation is criticizing the plan.
According to the Associated Press, South Carolina Department of Transportation Sec. Christy Hall sent a letter to members of the state House of Representatives to urge them to spend more money on the primary highways instead of sending so much to counties.
The current plan, which was passed by the South Carolina Senate last week, would send $400 million to road construction with $185 million of that going directly to counties.
Hall said the county roads aren't traveled on nearly as much as the state's non-interstate highways, which she said are in a "state of crisis." Upwards of 80 percent of South Carolina's highways considered to be in disrepair.
Because of the lack of funding for what is the nation's fourth largest highway system, the roads are on a 24-year paving cycle instead of the standard 10 years. Failure to repair the crumbling highways now could mean an exponentially larger bill if they need to be completely reconstructed.
"Continued additional investment into the secondary system is placing the low-traffic-volume roads in priority status at the expense of the state's primary system," Hall said in the letter.
The Republican-led bill wouldn't raise the gas tax, but House Democrats say they will propose a budget amendment to increase the tax 10 cents, partially in response to Hall's letter.
"We can't turn our backs on counties," Rep. Russell Ott (D-St. Matthews). "That's why we need more money."