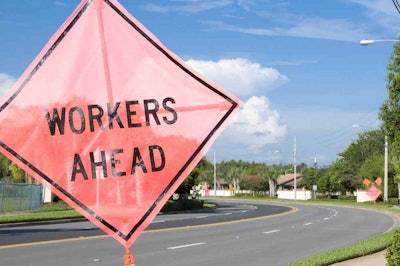 One road worker was killed and another was injured recently in Maryland after a vehicle swerved into a work zone and struck two Worcester County Public Works employees.
The Delmarva Daily Times reported that Scott Patrick Tatterson and Wade Kenneth Pusey were working in Stockton Feb. 22 inside a work zone on Greenville Road when a 2010 Kia tried to pass the workers. The driver of the Kia swerved back into the southbound lane to avoid an oncoming vehicle, but the driver drove through the work zone and and struck both Tatterson and Pusey.
The 48-year-old Tatterson died at the scene of the crash and Pusey, 23, was transported via helicopter to a Baltimore hospital for serious injuries. The driver of the Kia was not identified and was transported to a local hospital for non-life threatening injuries.
Worcester County morned the loss of Tatterson by flying the county flag at half mast.
"Our thoughts and prayers are with Wade Pusey who was also struck and is under active medical care. Scott and Wade are valuable and valued members of our Worcester County family, and our hearts are broken in light of the tragedy that befell our family yesterday," the county said in a statement.
The crash is still being investigated, and it's not yet known if the driver of the Kia will face criminal charges.