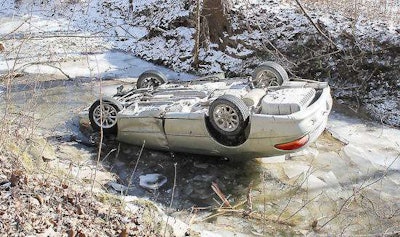 A highway worker in Indiana is being hailed a hero after he helped rescue a woman whose car overturned in a creek last week.
According to the Banner Graphic, Putnam County Highway Department worker Greg Whitman was passing by a rural creek when he noticed an overturned sedan in the freezing waters. Just minutes before, 25-year-old Christy Biggs was driving along Parker Stone Quarry Road when she lost control of her car in the icy conditions. The car flipped and landed upside down in the water.
Whitman thought fast when he saw the vehicle, calling 911 immediately before jumping in the icy creek himself. Biggs was quickly being overcome by water rushing into her car before Whitman cut her seat belt and helped her to the dry land.
Whitman tried to carry her up an embankment but couldn't. He held the woman in his arms until health arrived.
"If it wasn't for him, it probably would have been a lot worse because nobody travels down that road," Putnam County Sheriff's Department Lt. Donnie Pettit said.
The woman was transported via ambulance to a hospital in Indianapolis. She is expected to fully recover and Whitman's coworkers praised his heroic actions.
"I have worked alongside Greg for many years and I want to say that I am proud of him," Putnam County Highway Supervisor Mike Rickett said. "He is a caring person that would go above and beyond to help anyone in need."