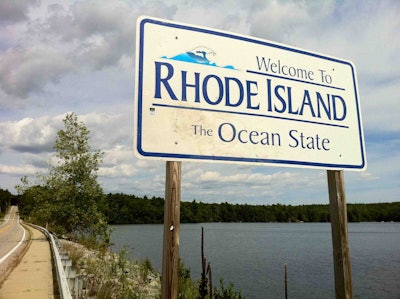 Gov. Gina Raimondo has signed into law RhodeWorks, Rhode Island's transportation project funding initiative first proposed in May 2015.
The final plan provides for the repair of more than 150 structurally deficient bridges as well as an additional 500 bridges to prevent them from reaching that condition. Officials estimate this plan will bring 90 percent of the states bridges into "structural sufficiency" by 2024 and will create 6,000 new construction jobs.
According to the 2015 Better Roads Bridge Inventory report published last November, Rhode Island has 764 total bridges with 212 being functionally obsolete and 187 being structurally deficient.
"I am grateful to the General Assembly for their commitment to take action on our crumbling roads and bridges, rebuild Rhode Island's infrastructure, and create jobs," Says Raimondo.
"We have the worst bridges in America, and through a thoughtful process, involving months of study, debate, compromise, and collaboration, we have now taken action to tackle the problem. RhodeWorks will add thousands of jobs in Rhode Island, improve the safety of our roads, and make our state a more attractive place for businesses to grow and families to call home. I am proud to sign this legislation, and look forward to continuing our partnership to put Rhode Islanders back to work and grow our economy."
Funding will come in part from tolls on heavy commercial trucks classified within Class 8 single 19 trailer, three or four axles up to and including Class 13 seven or more axle multi-20 trailer trucks. Tolls will average $3 at 14 gantries across the state, with a per day cap of $20 in each direction for a truck crossing the state. Tolls will not be collected on any other vehicles.
Before RhodeWorks, Rhode Island and Connecticut were the only states on the East Coast to not charge any tolls on their highways.
The legislation was significantly overhauled since Raimondo introduced it last year, the most significant being federal highway funds "garnered by the state's congressional delegation" that allowed the state to cut its borrowing in half to $300 million and to reduce its interests costs by 65 percent.
The legislation also includes strict project oversight, reporting requirements and timelines for the Rhode Island Department of Transportation. This includes "consequences" for failure to meet the requirements, as well as requirements for continual maintenance.
"This responsible legislation addresses our infrastructure, which is the most significant factor impacting the business community and the future of economic development in our state. We have the worst bridges, roads and overpasses in America and this plan will fix hundreds of them before an emergency occurs," says Rhode Island House Speaker Nicholas A. Mattiello (D-Dist. 15, Cranston).
"We have vastly improved the legislation since it was first introduced last spring, cutting the rate of borrowing in half and dramatically reducing the interest rate on the bonding, while inserting language to ensure that truck tolls will never be extended to other vehicles without voter approval. The passage of this bill is vital in ensuring a brighter future for our state."