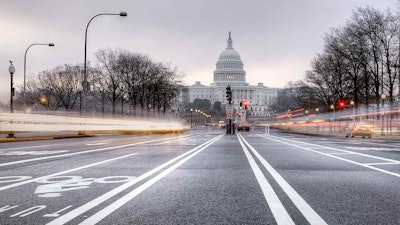 Members of the United States House of Representatives and the Senate were able to reach an agreement on a unified highway bill and announced on Tuesday a $305 billion bill that would provide transportation funding for five years.
The negotiators from the two chambers in the conference committee unveiled on Tuesday the Fixing America's Surface Transportation Act, also known as the FAST Act, sending billions to roads and bridges over the next five years.
House Transportation and Infrastructure Committee Chairman Bill Shuster (R-Pennsylvania) was joined by fellow conference committee members Rep. Peter DeFazio (D-Oregon) and Sens. Jim Inhofe (R-Oklahoma) and Barbara Boxer (D-California) in releasing the following statement:
"This legislation is a vital investment in our country. A safe, efficient surface transportation network is fundamentally necessary to our quality of life and our economy, and this conference report provides long-term certainty for states and local governments, and good reforms and improvements to the programs that sustain our roads, bridges, transit, and passenger rail system. We knew that reaching an agreement on this measure would be challenging, but every member of the conference committee was certainly up to the task. We appreciate their hard work in this effort, and we look forward to moving this measure forward and getting it signed into law."
However, Congress will have to take the bill's name to heart as it tries to pass the FAST Act for presidential approval. The most recent and 36th-straight Highway Trust Fund patch was just two weeks long and expires Friday.
Both chambers passed their own long-term transportation funding bills this year. The House passed the six-year, $325 billion Surface Transportation Reauthorization and Reform Act Nov. 5 with overwhelming bipartisan support. The Senate passed its long-term transportation bill called the DRIVE Act in June, but the House didn't act on it because of certain concerns regarding funding—the bill had funding for three years, but made commitments for six.
With the FAST Act set for five years of funding, it seems the conference committee may have taken some advice from the Democratic senators who sent a letter calling for a shorter bill in order to spend more annually.
The bill is set to be paid for through the 18.4 cent gas tax as well as changes in custom fees and passport rules for those with delinquent taxes. The bill also will offset some costs by contracting out some tax collection services to private companies.
It didn't take long for those in the road construction business to begin praising the bill. National Asphalt Pavement Association President Mike Acott said bill gives road builders and the rest of the public a level of stability in road funding that hasn't been seen in a decade.
"The House and Senate conferees deserve credit for funding a full five-year program that provides the states and federal agencies the flexibility necessary to seek innovative solutions to our transportation needs," Acott said. "… Our roads and highways have gone without necessary maintenance and improvement through years of short-term surface transportation bill extensions. But this bill gives the states and industry the certainty needed to move forward aggressively to improve safety, performance and drivability."
According to the summary of the bill from the House Transportation and Infrastructure Committee, the FAST Act would do the following to help roads and bridges:
Facilitates commerce and the movement of goods by refocusing existing funding for a National Highway Freight Program and a Nationally Significant Freight and Highway Projects Program
Expands funding available for bridges off the National Highway System
Streamlines the environmental review and permitting process to accelerate project approvals, without sacrificing environmental protections
Eliminates or consolidates at least six separate offices within the Department of Transportation and establishes a National Surface Transportation and Innovative Finance Bureau to help states, local governments, and the private sector with project delivery
Increases transparency by requiring the Department of Transportation to provide project-level information to Congress and the public
Promotes private investment in our surface transportation system
Promotes the deployment of transportation technologies and congestion management tools
Encourages installation of vehicle-to-infrastructure equipment to improve congestion and safety
Updates research and transportation standards development to reflect the growth of technology