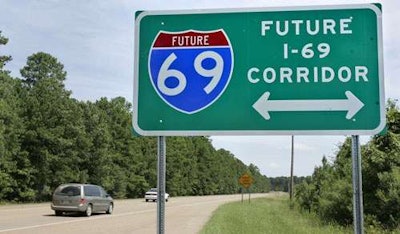 The Federal Highway Administration (FHWA) has redesignated 39.9 miles of the Edward T. Breathitt Pennyrile Parkway in Kentucky as Interstate 69 after major work to improve traffic flow. It is the newest section of interstate in the country.
"This latest addition to the national interstate system is the newest ladder of opportunity for residents of rural Kentucky and the thousands who depend on this region," Transportation Secretary Anthony Foxx said.
"This project created jobs for highway workers and, in the years to come, it will continue to create jobs by strengthening the economy and helping freight move more easily to and from markets worldwide."
Work on the $110 million project, which is the second section of I-69, started in early 2014 and includes reconstruction of the I-69/Pennyrile Parkway/Western Kentucky Parkway system interchange.
The project added "continuous through traffic movement," as well as guardrail and bridge rail improvements, vertical clearance corrections, and ramp improvements. The Kentucky Transportation Cabinet estimates 15,000 motorists travel the section of highway each day and expect 41,000 will use the route twenty years from now.
"This route is a key segment of one of the nation's most economically needed freight corridors," FHWA Administrator Gregory Nadeau said. "Improving its ability to handle the predicted increase in traffic over the next 20 years will make a big difference to those living in and traveling through the region."