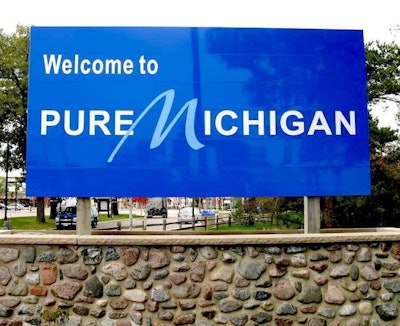 The Michigan Department of Transportation (MDOT) has designated a 50-mile stretch of M-134 in the Upper Peninsula as the first Pure Michigan Byway.
The program is a rebranding of the former Heritage Route Program and is a collaboration between MDOT and the Michigan Economic Development Corp. (MEDC). The Heritage Route Program was established in 1993 as an effort to preserve "scenic, historic or recreational" roadways. The program's name was changed to Pure Michigan Byway last year.
"This rebranding aligns the byway program much more closely with the wildly successful statewide Pure Michigan travel and tourism initiatives," MDOT Transportation Planner Tom Doylesaid. "The Pure Michigan Byway program makes sure our rich heritage of local highways and roadsides plays an important role in improving Michigan's economy and quality of life. Tying it to the Pure Michigan campaign will only raise the program's profile."
Officials chose the M-134 "based on its outstanding recreational and scenic qualities." and the fact that runs through Chippewa and Mackinac counties along Lake Huron's north shore.
"The whole program is about getting people to get off the freeway to take 'the road less traveled'," Doyle said. "We have such rich history, these scenic vistas – and on our Byways you can really see it."
Sixteen other highways are part of the program, and more information is available here.