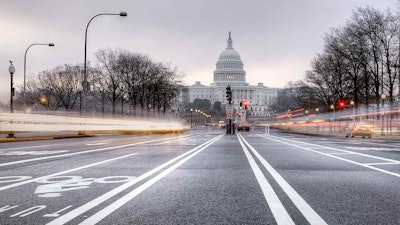 Every single Democratic governor in the U.S. has joined together to send Congress a letter urging lawmakers to finally pass a long-term transportation bill.
The Democratic Governors Association (DGA) said in a press release that the unanimous letter—the first in years with full support—called for Congress to do more than just pass a transportation patch. The governors are calling on lawmakers to make a serious investment to bring America's roads and bridges into good condition.
"States need long-term certainty in order to make key investments in significant transportation projects. That kind of certainty requires a robust and long-term federal commitment. Short-run, patchwork solutions by Congress will not do," the letter said. "… Governors cannot avoid the difficult choices necessary to maintain and improve the multimodal transportation networks in our states. The current level of funding is insufficient to invest in America's infrastructure in a way that strengthens our security and economy. … We urge you to act this year to advance a long-term proposal that sets our country on a path to bring our infrastructure back to a state of good repair."
The Highway Trust Fund was extended with a short-term patch in July for the 34th time since 2008. Congress has been unable to pass any transportation bill that lasts more than two years since 2005, but lawmakers on both sides of the aisle have been calling for something more long-term like the Senate's six-year DRIVE Act.
The House of Representatives is set to hold a markup of a transportation bill on Thursday in the House Transportation and Infrastructure Committee, and a bipartisan group of representatives led by Congressman Bill Shuster (R-Pennsylvania) introduced on Friday a $325 billion bill to fund transportation called the Surface Transportation Reauthorization and Reform (STRR) Act of 2015.
The (DGA) letter was signed by the following governors: Steve Bullock (Montana), Dan Malloy (Connecticut), Steve Beshear (Kentucky), Jerry Brown (California), Kate Brown (Oregon), Andrew Cuomo (New York), Mark Dayton (Minnesota), Maggie Hassan (New Hampshire), John Hickenlooper (Colorado), David Ige (Hawaii), Jay Inslee (Washington), Jack Markell (Delewar), Terry McAuliffe (Virginia), Jay Nixon (Missouri), Alejandro Garcia Padilla (Puerto Rico), Gina Raimondo (Rhode Island), Peter Shumlin (Vermont), Earl Ray Tomblin (West Virginia) and Tom Wolf (Pennsylvania).