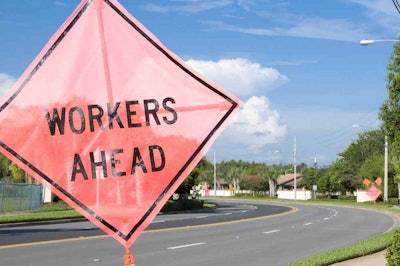 The Associated General Contractors of America (AGC) will be expanding its highway work zone safety programs next year via the $120,000 Susan Harwood Training Grant from the U.S. Department of Labor (USDOL).
AGC officials said the grant would be used to offer training classes "designed to prevent injuries among highway, street and bridge construction workers".
"Susan Harwood training grants save lives," Secretary of Labor Thomas Perez said in a statement. "The hands-on training supported by these grants helps assure that workers and employers have the tools and skills they need to identify hazards and prevent injuries."
USDOL says roughly 2.1 million workers have been trained through the program since 1978. It is named after a former director of the Office of Risk Assessment in the Occupational Safety & Health Administration's (OSHA) former Directorate of Health Standards. Susan Harwood passed away in 1996.
Stephen Sandherr, AGC CEO, said the best defense from crashes is educating highway work zone crews on setting up and operating safer work zones. "No amount of safety gear will protect a worker if they get hit by a speeding vehicle," he said.
AGC will offer the highway work zone safety program in six locations beginning in January. Provided in the sessions will be comprehensive information on proper set up of highway work zones, flagger safety and heavy equipment management.
According to USDOL's listing of the grant, AGC's program will offer 7.5 hours of training for road construction workers, company officers and managers, with a target audience of "low-literacy and limited English proficiency road construction workers". USDOL also says the training bill be provided in both English and Spanish and a CD of the training materials will be distributed during the sessions.