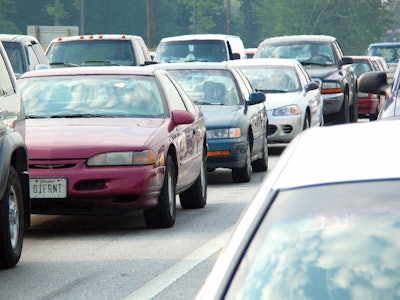 The Federal Highway Administration (FHWA) reports an estimated 1.26 trillion miles were traveled on U.S. roadways through May of this year, breaking the record of 1.23 trillion miles set through May 2007.
In it's monthly Traffic Volume Trends report, FHWA reported that May also saw a record number of miles for the month at 275.1 billion "reaffirming calls for increased investment in transportation infrastructure as demand on the nation's highway system grows." The vehicle-miles traveled (VMT) represented the 15th consecutive month of increased miles traveled.
The "most-traveled" region in May was the North Central group, made up of Illinois, Indiana, Iowa, Kansas, Michigan, Minnesota, Missouri, Nebraska, North Dakota, Ohio, South Dakota and Wisconsin. The VMT for this group reached 62 billion, a figure that marked the sixth month in a row of VMT growth. The West group reached 59.8 billion miles, the South Atlantic group 58.5 billion miles, the South Gulf group 54.9 billion miles and the Northeast group 40.0 billion miles.
For individual states, Arkansas grew the most at a rate of 9.3 percent year-over-year for May. Hawaii was second at 8.9 percent, followed by Tennessee at 5.4 percent.
The Traffic Volume Trends report, available here, is based on data pulled from more than 4,800 "continuous count" stations across the country