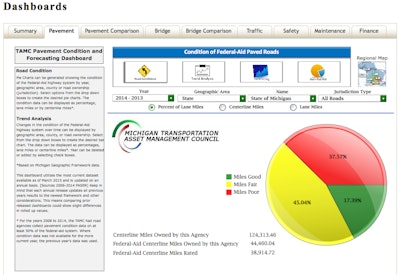 The Michigan Transportation Asset Management Council (TAMC) has created a series of online "dashboards" that provide road condition comparisons across the state.
The 2014 Pavement and Pavement Comparison Dashboards provide overall views of pavements, pavement comparisons, bridge and bridge comparisons, traffic data, safety information, preventative road maintenance details, and statewide road and bridge expenditures by category.
"These Pavement Dashboards display values of road conditions based on 2014 Pavement Surface Evaluation and Rating (PASER) ratings of Good, Fair, and Poor, where available, and on the 2013 ratings elsewhere.," the organization said in a statement. "The PASER data can be viewed by road agency jurisdiction and/or by road ownership for any year from 2006 through 2014."
The safety and bridge dashboards will be update with the 2014 data in early May.
TAMC is holding its annual spring conference April 30 in Grand Rapids with the theme of "Investing in Our Future with Data Driven Decisions."