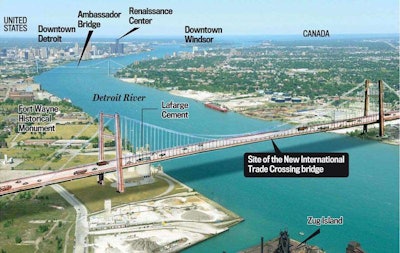 Canada and the U.S. have agreed on the construction, maintenance, and staffing of the New International Trade Crossing (NITC)/Detroit River International Crossing (DRIC) linking Detroit, Mich., and Windsor, Ontario.
The project is expected to cost roughly $2 billion and support and create hundreds of jobs.
The Detroit-Windsor corridor is an important trade route, as it accounted for more than 25 percent of the $658 billion in goods that passed through all Ports of Entry between the two countries last year.
The U.S. Department of Homeland Security (DHS) and Transport Canada (TC) made separate announcements Feb. 18 announcing the agreement.
The U.S. customs plaza at the proposed site will be part of the NITC/DRIC public-private partnership that will "finance, design, construct, operate and maintain the rest of the project." The project will be "repaid from future toll revenues."
The DHS reports the U.S. will support the project during and after construction. "For example, the Unites States estimates that first-year operations and staffing will require an approximately $100 million in vestment with an ongoing annual requirement of $50 million in annual staffing costs," DHS said in its statement.
"This arrangement is good for Canada and Canadians," said Canada Minister of Transport Lisa Raitt. "It ensures that all the elements of the project will ultimately be delivered through a public-private partnership. It also allows Canada and Michigan to move the project forward immediately to its next steps which include further design work and property acquisition on the U.S. side of the border."
The Associated Equipment Distributors (AED), which has led efforts to get final approval of the project since 2012, hails the announcement as "welcome news."
"AED estimates the $2 billion project will create more than $100 million in equipment market activity on both sides of the border and directly support more than 150 equipment distribution sector jobs," said AED President & CEO Brian McGuire. "The bridge also has important implications for the U.S.-Canada trade relationship and for the distribution and manufacturing sectors on both sides of the border. We hope President Obama and Prime Minister Harper will build on the momentum and look for other opportunities to improve cross-border infrastructure and enhance the efficiency of the North American economy."