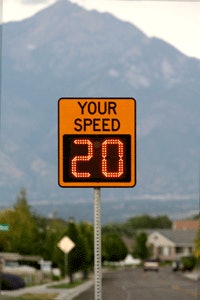 Traffic Logix announced on August 2nd the launch of the SafePace 100, a low cost radar sign designed for private roads or small budgets. For weeks before the official launch, the company has already been receiving emails and phone calls about the sign.
The enthusiasm is understandable.
"The SafePace 100 offers quite the package," noted Ben Cohen, the company's Director of Product Development. "The compact, power-efficient sign doesn't compromise on quality or features, but is remarkably economical."
The sign, positioned as a smaller entry-level alternative to the company's full size radar signs, is designed to meet the needs of HOAs, gated communities, shopping malls, and corporate campuses. The sign is also a viable option for school or construction zones, or for cities facing budget constraints. As more and more cities are forced to tighten their budgets, the sign is a welcome alternative to more expensive traffic calming. It also allows cities to try a radar solution on their streets before investing in full size radar signs.
The SafePace 100 weighs only around 20 lbs, and can be mounted in minutes, making it a compact and portable solution. An optional smaller "Your Speed" sign plate allows you to fold the sign in half for even more ease during relocation. The ultra low power sign includes the most power-efficient radar technology available. The technology includes ambient light sensing and automatic brightness control and powers down when no traffic is present. AC Power is included, while optional battery or solar power further conserve energy. The optional battery choices offer extended operation of up to 4 weeks under normal operating conditions. A flashing strobe, programmable to the speed at which you want to alert drivers, comes standard with every sign.
While the sign is small, measuring just 23" wide x 29" high x 2.98" depth, it still offers brilliant visibility even in poor lighting conditions with a unique light enhancing anti-glare lens system. A ¼" protective aluminum face and individual LED lenses protect the sign from theft or vandalism.
The SafePace 100 includes easy-to-use software that lets you program parameters such as local speed limit, range of operation, and whether to optimize brightness or power. Commonly used settings, such as threshold speeds for the strobe and the violator high and low cutoff speeds can also be programmed directly on the sign.
Other sign options include data collection and reporting and a universal mounting bracket that makes mounting the sign even easier, ideal if you're moving the sign from location to location. The bracket locks and unlocks with the turn of a key.
With the launch of the SafePace 100, Traffic Logix continues to lead the way in helping cities and private communities calm traffic and protect their streets. Founded in 2004 as a direct sales manufacturer of traffic calming products, the company currently offers a complete line of traffic calming solutions including a variety of radar sign products as well as interlocking rubber speed humps, tables, and cushions.
"Our solutions have been installed on thousands of roads across the country," said Craig Timothy, the company's Vice President. "There's a reason our products are so popular, and that our customers keep coming back."
For more information about the SafePace 100, or to learn more about other Traffic Logix solutions, visit https://trafficlogix.com/ or call 866-915-6449.