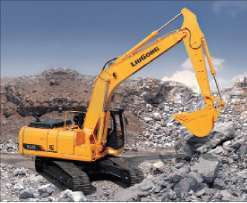 LIUGONG
Next generation crawler excavator
LiuGong Machinery says its 922E next generation crawler excavator features additional power and control, a 5-percent improvement in operating efficiencies, and an 8-percent reduction in fuel consumption. The machine's Intelligent Power Control System increases digging force by up to 10 percent for 10-second intervals. The no-time-limit, heavy-lift system enables the operator to increase pressure to build force and reduce hydraulic flow to the attachment, while reducing speed. An automatic boom-descent regeneration system allows the boom to descend faster. A multi-working-mode selection system gives the operator the ability to match performance with the job. The excavator is powered by a Cummins QSB6.7 diesel engine rated at 127 kW. Visit www.betterroads.com/info.

JET
New hydraulic detachable gooseneck trailers
Jet's hydraulic detachable gooseneck trailers 35-ton and 51-ton series now come in various models and a variety of front and rear deck heights. The 35-ton model comes with a tandem or triple axle while the 51-ton model allows for a triple or quad axle. Standard features include air ride suspension, a low deck height, hydraulic gooseneck, adjustable ride height, heavy-duty tie downs, non-ground bearing, and a hydraulic fame jack to support the gooseneck on a tractor frame. Fabricated I-beams allow for optional 5-1/2-inch aluminum I-beam slide outs on the 35-ton series while heavy-duty outriggers may be incorporated on both the 35-ton or 51-ton model.
Visit www.betterroads.com/info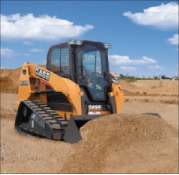 CASE
Upgraded skid steers
Case Construction Equipment has upgraded its four largest Alpha Series skid steers and compact track loaders to meet Tier 4 Interim certification emission requirements. The Case SR250 and SV300 skid steers and TR320 and TV380 compact track loaders now feature 90-horsepower, 3.4-liter Case diesel engines with the full high-pressure common rail (HPCR) design typically used in larger construction equipment. The models are now equipped with cooled exhaust gas recirculation (CEGR) technology, including diesel particulate filter and diesel oxidizing catalyst. Rated operating capacities are 2,500 lb for the SR250; 3,000 pounds for the SV300; 3,200 pounds in the TR320, and 3,800 pounds for the TV380.
Visit www.betterroads.com/info.
MUNCIE POWER
Real-time support, remotely
The Advantage + System from Muncie Power Supply has a built-in Real-Time Support Link allowing remote access to the system. A flow-sharing design allows for simultaneous equipment operation even at low pump flows. The touch-screen display is high-contrast, high resolution and multi-color. The system is useable with gear or piston pumps, has built-in pre-wet and anti-icing controls, menu-adjusted pressure controls and digital pressure displays, and operational data logging and diagnostic data logging. Built-in GPS, WiFi and interface and displays for road/air temperature sensors come as part of the system, and there are no wire harnesses between the cab controls and the valves.
Visit www.betterroads.com/info.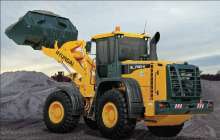 HYUNDAI
Mid-size excavator with optimized safety
The newest addition to Hyundai Construction Equipment's line of Robex 210, 9-Series crawler excavators is the R210LC-9. It features improvements that include optimized safety, enhanced technology and operator comfort, reduced operating costs, and extended component and wear-part life. The mid-size excavator is powered by a Cummins QSB6.7 water-cooled, four-cycle, low-emission diesel engine with 145 horsepower at 1,900 rpm. At 49,390 pounds, the machine has a dig depth of 18 feet, 7 inches and bucket digging force of 24,900 pound-feet. New steel-tube construction on the cab increases safety and durability. The excavator comes standard with a 7-inch-wide color LCD screen Cluster with toggle switch that allows the operator to select personal machine preferences, as well as power and work-mode selections, self-diagnostics, maintenance check lists, and machine security. Visit www.betterroads.com/info.
KOMATSU
A better dozer
Komatsu America says its D375A-7 dozer features technological enhancements for increased production, fuel economy, extended component life, and operator comfort. The company says the dozer offers more horsepower and features an optimized blade profile, an enhanced operator station, and key mining specifications. Standard operating equipment, such as torque converter lockup, track-shoe slip control, power/economy mode, and ripping penetration, are said to exceed critical customer requirements. Other features include a K-Bogie undercarriage, Palm Command Control System, Komtrax Plus, and a low dB(A) noise level. Visit www.betterroads.com/info.

TQC
Non-destructive concrete moisture meter
The TQC Concrete Moisture Meter is a non-destructive moisture meter for concrete, which measures electrical impedance through the moisture content of concrete by pressing the instrument against the concrete surface. The electrical impedance is measured through generating a low frequency electric field between eight electrodes at the bottom of the instrument. Depending on the moisture content the measurements are made to a depth of several centimeters. Four scales allow flexible use of the instrument as an accurate measuring device or as a detector to find moisture traces or leakage: Concrete zero to 6 percent H2O; carbide method zero to 4 percent H2O; relative scale zero to 100 percent; and Scale 0.3 to 15.3m. The scale works in a similar way as the Relative scale and can be used alongside meters with the same scale that ranges between 0.3 and 15.3 meters. Visit www.betterroads.com/info.
MAXWELL SYSTEMS
Construction business management software accessible anywhere
Maxwell Systems' StreetSmarts 8.0 construction business management software is a browser-based solution that allows users to access the software anywhere via the Internet. Users can create and customize menu shortcuts for faster navigation to their most commonly used StreetSmarts functions, reports, and queries. Drill-down graphical reports allow users to easily see the cost-to-budget and cost-to-revenue relationships on each project and plant. The application will remember preferences. It can customize the User Menu, Group Menus and Home Page. With Microsoft's XPS viewer, users can generate reports to view and then save, print, email, etc. right from the viewer. Visit www.betterroads.com/info.
LINK-BELT
15 percent more lift capacity
The new Link-Belt 235 X3 Spin Ace minimum swing radius excavator, available in LC and Dozer models, replaces the 225 Spin Ace minimum swing-radius excavator. New features include an Interim Tier 4a Isuzu engine with 17.5 percent better fuel efficiency, a ROPS-certified cab with new interior and 7-inch color monitor, up to 15 percent more lift capacity, 7-percent faster cycle times and improved serviceability. The 235 X3 Spin Ace can be equipped with an optional auxiliary hydraulic system which allows the operator to change both pressure and flow settings from inside the cab.Visit www.betterroads.com/info.
VACALL
Widest sweep path
Vacall's AllSweep is the industry's widest sweep path and a single-engine design, according to the manufacturer. An independent test shows All Sweep has the greatest air flow capacity when compared with all vacuum sweepers designed to clean up runways, parking lots, event venues, highway millings and streets, according to Vacall. Either single- or dual-sweep systems are available, as well as full-width nozzles and gutter brooms. A new position memory feature allows the nozzle height to be raised and then restored when encountering curbs, speed bumps and other obstacles. When in use, a new hydrostatic drive system controls chassis travel speed while maintaining a specific rpm level. The models also are equipped with catch basin cleaner hoses.
Visit www.betterroads.com/info.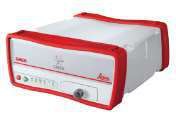 LEICA
Fully integrated monitoring sensor
Leica Geosystems' GM10 GNSS Monitoring Sensor is fully integrated into Leica Monitoring Solutions and can be combined with Total Stations and geotechnical sensor. Data can be logged in different formats up to 50 Hz and streamed directly to the internet or processed onboard in real time. An integrated FTP server allows archiving and push of stored data. The modular design based on the three different models: Leica GM10 Basic, Leica GM10 Performance and Leica GM10 Professional. Visit www.betterroads.com/info.
HIGHWAY SAFETY ZONE
Keeping safety workers safe
The Cone Cage from Highway Safety Zone allows the traffic control placer and stacker to deploy and retrieve traffic control devices from a transport vehicle while restraining workers from ejection during sudden or erratic direction change. Compatible with all late model pickup trucks, it is adjustable for a bed width of 54 inches to 60 inches and bed length 5.5 feet to 8 feet. A drill installation is not necessary with the Super Clamp System. Air-Star Sirocco lighting balloon brackets for night time use come standard.
Visit www.betterroads.com/info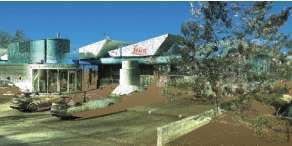 LEICA
Camera/laser cooperation
Leica Geosystem's new option for Leica ScanStation C10 laser scanner enables users to apply the brilliance of external camera imagery to laser scan point cloud data. The new option consists of a direct digital camera mount on the ScanStation C10 scanner and tight, automated integration of external camera images into the scanner's onboard controller and data storage system. Cyclone v7.4 supports this new option. Visit www.betterroads.com/info.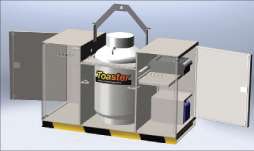 SERIOUS THERMAL
Infrared technology toasts frozen ground
Serious Thermal Products' Complete Heat System for use with its Serious Toaster ground-thawing features a heavy-duty cabinet that houses everything needed to run up to five Toasters at one time machines. The system includes storage to contain a 250-gallon propane tank (or "pig"), all necessary hoses to connect propane to five Toasters, a generator with extended gas tank, all electrical cords, and propane-tank heaters to keep the propane vaporizable in extreme cold weather conditions. Serious Toaster ground-thawing machines use a patented infrared technology to thaw frozen ground, thawing up to 1.6 inches deep per hour in a 2-foot-by-10-foot area. Visit www.betterroads.com/info.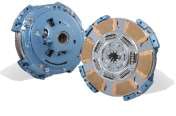 Eaton Corp.
The Role of Mechanical Clutches in Dampening Torsional Vibrations
Industrial manufacturer Eaton Corp. has published a new technical paper on how contemporary mechanical clutches can protect high-value drivetrain components from harmful torsional vibrations in commercial trucks. The one-page, two-sided, color document (item number CLWP0001) is available at www.eaton.com/roadranger. Titled, "The Role of Mechanical Clutches in Dampening Torsional Vibrations," the piece describes how modern damper technology has evolved throughout the years to effectively reduce driveline resonance that is created naturally in any internal combustion engine. It also points out how modern dampers have been adapted to work especially well with today's high-torque, low-speed engines, which increase the amount of vibration in the drivetrain. The paper includes information on how breadth of product, selecting the correct amount of friction material and the number of springs all factors. Visit www.betterroads.com/info.
300 BELOW
No rust on the brakes
300 Below has three new brake rotor lines: Dura-Life brake rotors CryoRotors, and TruBlue, severe-duty brake rotors. Dura-Life is the entry-level product providing a rust inhibitor for the rotor and ABS ring. CryoRotor is the private label brake rotor available to buying groups and parts divisions of major truck suppliers in the United States and Canada. According to the manufacturer, the rotors have been tested and shown to deliver double the life of standard brake rotors. Visit www.betterroads.com/info.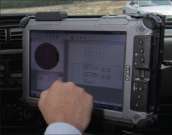 Xplore Technologies Corp.
Computer handles thermal stresses
Xplore Technologies Corp.'s iX104C5 computers can handle thermal stresses – whether blistering heat as high as 140 degrees or freezing temperatures as low as -4 degrees Fahrenheit. The computer provides 100-percent performance over and beyond its entire operating temperature range, according to RuggedPC.com. For more on how the computer operates in extreme conditions, go to www.ruggedpcreview.com/3_features_performance_under_stress.html Visit
Knaack
Front rails protect during load/unload
Knaack LLC's newly redesigned roof-mounted ladder rack equipment features enhance the unit's durability while making it safer and easier for one person to load, transport, and unload ladders, as well as other oversized items carried on the roof racks. Improvements to the Quick Clamp Ladder Rack include modifications to the mounting plates and the front rails to protect ladders when loading and unloading; beefing-up the clamp mechanism for added strength and longer life; and improved engineering of the gas springs with a tougher exterior case to withstand wear, and internal brass bushings that prevent strip-out.Visit www.betterroads.com/info.