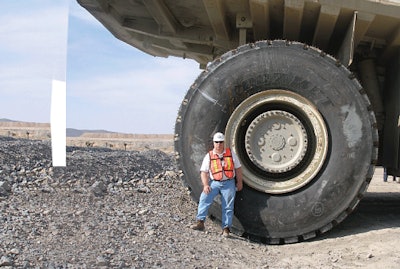 Your earthmover tires are a critical component of uptime, cost control and profitability.
Other than the cost of the machine itself, fuel and tires are the biggest expenses you face in earthmoving and quarry work. While the price of fuel is out of your control, there are a number of tire-related factors you can control that will lower operating costs and increase your uptime.
It starts with picking the right tire. And just because all tires are round and black does not mean they're all the same. Today's heavy equipment tires offer a diverse range of technological improvements over designs of just a few years ago. Here's a guide to what the major manufacturers are producing.
Michelin
A new retread option, the Michelin XZY3 Pre-Mold, brings all the technological innovations of the company's new tires to a retread product with a heavy duty, thick tread and anti-cut/anti-chip properties for the on/off road market. The XZY3 Pre-Mold tread comes in rolls and multiple widths and is applied to casings at Michelin authorized franchises. The company also uses two different rubber compounds co-extruded in the XYZ3 product. "It uses a cooler running compound by the casing to keep heat off the casing for better performance and longevity," says Tom Brennan, vice president of sales for retreading at Michelin. "Then the tread that goes against the road can be a different compound and be more aggressive, or fuel efficient or offer less rolling resistance if needed."
Michelin
The Michelin XDR2 tire, designed for rigid dump trucks, offers up to 20 percent more tread for greater wear and durability than its predecessor, says the company. It has 10-percent thicker undertread between the protective plies and tread base to better withstand cuts and impacts and a 13-percent larger central lug in a non-directional tread design than its predecessor, the XDR.
The XDR2 tire also runs cooler thanks to its new optimized sculpture with cooling vents that enable air to circulate through the tread lugs during the first half of the tread life without compromising the tire's ton-mile-per-hour ratings. A new casing geometry, dubbed C2, also reduces heat build up. A new steel ply design helps delay and prevent the spread of corrosion when cuts occur, and improved sidewall and bead design to better distribute sidewall stress. These corrosion isolating cables also delay the spread of corrosion from cuts, says Hugo Morales, marketing mining manager for Michelin Earthmover Tires.
Titan
Titan's DTH4 line of haul truck tires has a somewhat less aggressive tread than similar E-4 tires which allows it to run smoother and a little faster than a more aggressive tread design needed for high traction situations. The DTH4 line was recently expanding to include 27R49, 33R51 and 40R57 sizes.
Titan has also worked to better integrate the interface between the tire and the wheel, creating what it calls ACT (accelerated change technology) rim designs. One example: ACT 63 wheel assemblies for dual tire assemblies on large quarry and mining trucks have flanges that enable you to remove the inside tire on dual tire axles without having to remove the outside tire. "On a Cat 797 there are 64 bolts holding the wheel on," says Hawkins. "An ACT wheel can save three of four hours on the inside dual tire change depending on the size of the truck, every time you change tires."
Bias tires are still popular on large wheel loaders. That's because their stiff sidewalls, compared to a radial, offer more rigidity and stability when the bucket is high in the air.
Titan aims to improve this situation with the heavy equipment equivalent of a thin rim tire – a radial with a low profile sidewall. The sidewall on the company's prototype LDR 150 tire is reduced by 6 inches by taking the metal rim and increasing it from 57 to 63 inches. The outside diameter of the tire remains the same plus you get the benefits of the radial design with greatly reduced flex, says Paul Hawkins, vice president of OTR sales for Titan. The LDR 150 is currently undergoing testing and evaluation.
Also from Titan, the 007 MTF tire is getting a larger version (46/90) that accommodates the larger load capacities of the Cat 793. "As the trucks have gotten heavier the tires have had to get a little bigger and the 46/90 is a slightly larger version so you get a little more load carrying capacity," Hawkins says.
Goodyear
The Goodyear RM (rock mining) OTR tire has been engineered to deliver optimal tread life, traction, and cut and chunk resistance. The company offers a variety of compounds for this tire to suit different conditions and applications. These include compounds for heat resistance, standard abrasion resistance and ultra abrasion resistance. Non-directional, extra deep tread patterns enhance tread life and interlocking stability blading help optimize traction.
Continental Tire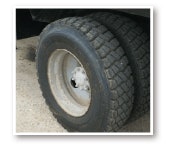 A new on/off road compound with long chain polymers in Continental Tire's HDC1 (heavy drive construction) and HSC1 (heavy steer construction) lineup increases resistance to chips, cuts and chunks and reduces the number and depth of cuts and tears for greater durability and longevity.
"The long chain polymer works better than short chain polymers because they rely on each other and support each other," says Roger Stansbie, director of truck tire technologies, Continental Tire the Americas. "The smaller chains can more easily be separated and chip out as smaller units. We can dramatically increase the casing life and tread life by preventing the propagation of cuts to the belts." This also helps the tire survive with a sufficiently healthy casing to make a good retread.
Continental also increased the strength of the belts to help protect the casing. The steel cording is braided together in a configuration that makes it hard for air or moisture to migrate through the tire after a cut. "With a more open cord the air and moisture track along the belt in an air cavity and away from the initial damage," Stansbie says. "Before you know it, a substantial portion of the belt has corrosion. We can contain that propagation with the 3+8 cord and by getting as much rubber between those gaps during the calendaring process in manufacturing, when the steel cording and rubber come together."
Tread design also plays a role in preventing Continental's tires from rock damage, Stansbie says. The grooves between tread blocks are wide enough and tapered so rocks can wiggle free and stone bumpers, which are tiny rubber mounds at the base of the grooves, help prevent rocks and stones from wedging in firmly and eject them when the tread comes out of the footprint.
Continental has brought this technology to several additional sizes of tires including a new HCS 445/50R22.5, new 17.5-inch trailer tires, a new General Grabber OD (off-road drive) tire in sizes 11R22.5 and 24.5 and a General Grabber OA (off-road all position) in size 315/80R22.5.
THE TIRE SHORTAGE
Demand is high but new factory capacity is on the way
Although not as severe as the shortage in the middle of the last decade, there is yet another tire shortage going on, and contractors need to take steps to make sure they have enough rubber to meet the demands of the road.
It's clearly an issue, says Paul Hawkins, vice president of OTR sales at Titan. "What's different this time is that a lot of the quarry business in the United States. depends on the homebuilding and road construction and those are muted right now compared to a few years ago. But the mining business is at even higher levels so there are shortages in tires for mining trucks."
"The OE business is doing very well, putting a lot of pressure on stock and inventory," says Tom Brennan, vice president of sales for retreading at Michelin. "I see the retreading market getting better this year. Not drastically better, but better. Last year and a bit before casings were very hard to find. They're still difficult but not impossible."
Prices for retreadable casings have also been marching upward. Roger Stansbie, director of truck tire technologies, Continental Tire the Americas, says he's even heard vendors quoting prices in the area of $130 a casing, although $70 to $80 per casing is more the top-end norm, he says. "In a construction application, anything you can do to prevent or retard the natural cutting of the tire casing, the better off you are," Stansbie says.
Over the past six years Michelin has more than doubled its earthmover tire output, says Sachin Deshpande, press relations manager for Michelin Canada. "We saw the demand for earthmover tires increase by more than 20 percent between 2009 and 2011." In response Michelin is spending $750 million to expand its earthmover tire capacity in South Carolina. Bridgestone, likewise, is spending $1.3 billion on investments in tire plants in South Carolina, Tennessee and Iowa; and recently announced a $19.5 million expansion at its Bloomington, Illinois, OTR plant.