Lura Enterprises
For concrete crowns and cambered pours. And more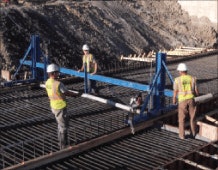 Lura Enterprises has developed the Trolley System for its Lightning Strike Concrete Roller Screed. The accessory completes bridge decks with crowns and cambered pours quickly and with minimal setup time, says Lura. Designed to handle challenging pours, the trolley system adapts to accommodate multiple projects. The system can handle bridge decks, radius pours, parapet walls, and pours with obstruction such as rebar. It features three adjustment points — one at each end and a third at the center CV joint — as it extends to cover pours as wide as 38 feet. It runs across pipes as large as 2.5 inches in diameter to easily maneuver across the jobsite. The frame body is constructed of 1/4 inch steel and supported by eight concave rollers capable of carrying as much as a metric ton each, allowing it to carry the screed, generator, lights or other equipment.
Visit www.betterroads.com/info
Caterpillar
Updated wheeled machines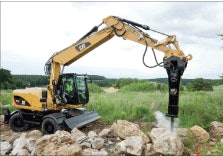 Caterpillar's 4-cylinder M300D Series wheeled excavator models — M313D and M315D — have been updated. A new welded undercarriage allows a blade to be used either front or rear, with or without outriggers at the non-blade end — or the machines can be fitted with outriggers front and rear. The in-cab monitor is now the one used in Cat 6-cylinder wheeled excavators with a 40-percent larger display area and greater resolution. A new right-hand switch-panel module now houses the rotary-throttle dial, allowing the operator intuitive access to engine-speed control. New features to facilitate easy maintenance include rerouted coolant lines for unhindered access to service points and an easy-to-use shunt tank with redesigned filler neck and cap. In addition, new electrical connectors are used for the proportional pilot valves, the hydraulic tank incorporates new pressure and temperature sensors, as well as a new drain valve.
Visit www.betterroads.com/info
Thern
Compact, lightweight winch
Thern has introduced the Atlas II Series power winch, designed for a broad range of construction applications. With a cast aluminum body, the compact, lightweight winch boasts a 2-ton load capacity. Lifting handles built onto the frame facilitate easy attachment of lifting straps for additional convenience with worksite positioning and transport. Precision machine-cut gearing with an enclosed oil bath helps to reduce wear and provide long-lasting efficient operation.
Visit www.betterroads.com/info
Knaack
Heavy-duty four-way skids
Knaack has improved the design of the skids used with its jobsite chests, cabinets and field station. The upgraded new four-way skids are made of heavy-duty, 7-gauge steel for enhanced durability and provide forklift access from all sides, as well as improved durability, and an easier method of attaching casters. The four-way skids, already included on the new Field Station (119-01), are now a standard feature on all Storagemaster chests, Jobmaster chests and cabinets, Knaack Classic storage chests, and the Monster Box series. The improved bolt/nut combination attaches the caster even more securely to the skid.
Visit www.betterroads.com/info
Philippi-Hagenbuch
Customized tailgates life dump capacity
Philippi-Hagenbuch's line of PHIL Autogate Tailgates are designed increase haul truck capacities by up to 20 percent, while also providing added safety and extended tire life, according to the manufacturer. The tailgates are customized to fit nearly any scope and size of articulated or rigid frame off-highway haul truck and can be installed through the OEM or retrofitted on-site. The three-piece tailgate construction allows for adaption to different bed widths. They do not use locks, cylinders, grease points or controls. As the body dumps, gravity naturally opens the tailgate to discharge material from the bed. The tailgate also provide maximum opening at the exact angle where material begins to move, ensuring optimized dumping speed.
Visit www.betterroads.com/info
Chicago Pneumatic
Tough breakers for tough jobs
The Chicago Pneumatic RX hydraulic breaker line offers 13 models. With a service weight of 200 pounds, the RX 2 breaker fits carrier classes with weights ranging from 2,000 to 7,000 pounds. On the top end, with a service weight of 9,000 pounds the RX 53 is appropriate for carriers in the 88,000 to 154,000 pounds (40 to 70 metric ton) weight class. The CP Power Boost feature achieves greater breaking performance in tough applications without requiring additional hydraulic input. While the impact energy remains constant, the breaker increases the impact rate, resulting in enhanced percussive performance. The Power Stop function found on models RX 14 and up eliminates blank to reduce wear on the breaker and carrier.
Visit www.betterroads.com/info
Altus Positioning Systems
Precision excavator digging control
Altus Positioning Systems's DigPilot 3D excavator control system uses an onboard Altus APS-3 compact, lightweight, portable 136-channel RTK receiver attached to the excavator arm. The APS-3 transmits position data in real time via a proprietary wireless format to an in-cab display monitor so the operator can position the shovel to cut and fill the earth to meet a computerized model of the design specifications for the project. The unit is completely configurable from the data collector via Bluetooth to operate with the internal UHF radio or for network rover operation with the internal quad-band GSM/GPRS modem. Its removable 2GB SD memory card enables plug-and-play of raw data transfer for post processing.
Visit www.betterroads.com/info
Kafco
Brake washer — no electricity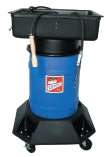 The Oil Eater professional brake washer from Kafco allows users to clean brake parts without using electricity. It is made of industrial-grade HDPE plastic and includes a heavy-duty air pump with adjustable regulator, flow-through brush with adjustable solution valve, dual filtration systems and four swivel casters, two of which lock. The washer's cover also functions as a catch basin. It is designed for use on alignment lifts/ramp lifts or on the floor and can also be used as a portable parts washer. Fluid capacity ranges from 8 gallons to 12 gallons. The basin is 20 inches wide by 24 inches long and 7 inches deep.
Visit www.betterroads.com/info
HCSS
Apps for construction management
The suite of new mobile applications from HCSS for collecting and reviewing data on construction field operations can be run anywhere using iPhones, iPads and Android-based phones and tablets. Contractors can record an entire time card including diaries, photographs and cost-coded employee and equipment hours, as well as production quantities. These apps integrate with HCSS's back-end databases, which allow them to integrate with more than 40 accounting systems. Field personnel can compare actual job costs against the budget on a daily basis from anywhere at any time. Photographs get transmitted into appropriate job folders by simply taking the photograph and clicking "send."
Visit www.betterroads.com/info
Snow TechNologies/Resolute Rubber
Dump truck tires to snow plow blades
Snow Technologies and Resolute Rubber are bringing new life to old tires as snow plow blades. In a former life, the plows were 10-foot tires from mining dump trucks. The blades adjust instantly to changes in surface, provide easy alignment because there's no rolled rubber distortion, and allow for multiple uses because of slotted holes, says the company. Because they're rubber, they don't chip curbs when hit or harm asphalt parking lots, says the maker. "Instead of putting [the tires] in a landfill, we are repurposing them," Chad Van Laecken, president and CEO of Snow Technologies, tells Better Roads.
Visit www.betterroads.com/info
Caterpillar
An engine for heavy-hauling jobs
The new Cat CT15 engine offers Cat CT660 vocational truck customers greater horsepower and torque The CT15 joins the CT11 and CT13 as the third engine option for the versatile Cat CT660. The 15-liter engine is available with as much as 550 horsepower and 1,850 pounds per feet of torque, which will power the Class 8 truck through heavy-hauling jobs and demanding terrain. The CT15 also offers an engine brake rated at more than 600 bhp.
Visit www.betterroads.com/info
Asphalt Drum Mixers (ADM)
Single-drum counterflow plant
The Excalibur Series asphalt plants from Asphalt Drum Mixers (ADM) with single-drum counterflow technology (separate drying and mixing zones to achieve the maximum level of heat transfer and fuel efficiency) produce 100 to 425 tons per hour are capable of processing high percentages of recycled asphalt pavement (RAP). According to the manufacturer, boast the longest aggregate drying and mixing times in the industry. The asphslt plants are available in portable or stationary versions and meet all federal and state specifications.
Visit www.betterroads.com/info
Hilti
Active vibration reduction system
The new Hilti TE 700-AVR Demolition Hammer weighs in at 17.4 pounds with 8.5 feet per pound of impact energy while the Active Vibration Reduction (AVR) system keeps vibration to a minimum for increased comfort and productivity, according to Hilti. An active cooling system reduces wear and tear, the three-chamber sealing helps keep dust out of the tool and the brushless SR motor eliminates the need to replace carbon brushes. The result is longer intervals between service and twice the expected tool life. The demolition hammer also features a lockable switch, a reduced hammering button that resets when unplugged, and a side handle with full radial and axial adjustments provides a secure grip in virtually any position. An optional TE DRS-B Dust Removal System also is available.
Visit www.betterroads.com/info
U-TECH
Fire-retardant vegetation control
U-TECH's WeedEnder Utility Pole Mats provide fire-retardant vegetation control around utility poles and other structures. This variation of the WeedEnder product is designed to provide power distribution companies with a simple, effective method of maintaining the areas around non-exempt structures that are potential fire hazards.
Visit www.betterroads.com/info
Allen Engineering
Steerable roller screed
The RS844 ride-on steerable roller screed from Allen Engineering is powered by a 44-horsepower Kubota turbo diesel with a 8-inch-diameter paving tube that provides 25-percent more surface contact than other roller screeds, says the maker. A manual crank, removable dolly jacks with foam filled pneumatic tires, paving tube scrapers to eliminate concrete buildup and a sectionalized truss-style overhead mainframe are standard. Four lights, adjustable seat and arm rests, emergency kill switches on both ends of the machine and operator panel, and 8-inch polyurethane coated drive rollers also come standard. The RS844 is available in widths of 14 to 34 feet with working widths of 12 to 32 feet.
Visit www.betterroads.com/info
Jet
Side dump hauls more

Jet's side dump trailer with side extension is available in steel or aluminum and offers additional tub hauling capacity. It has a trunnion-mounted inverted cylinder designed to reduce tub acceleration and significantly improve trailer stability. The trailer also has the customary rounded tub that improves clean out, external tub supports that make hauling long items easier, and high strength 1/4-inch abrasion resistant steel for additional tub strength and reduction of dents. A new bushing design makes all tub and cylinder pivot points maintenance free.
Visit www.betterroads.com/info
Isuzu
Eliminating transportation expenses
Isuzu Commercial Truck of America (ICTA) has a new process that will enable Isuzu dealers to more quickly convert or modify gasoline-powered NPR-HD (14,500-pound GVWR) trucks for its customers. ddealers can select a ship-through option to indicate that they have arranged to have the trucks modified at one of two independent modification centers near the trucks' Charlotte, Mich., assembly plant. Following the modification, the center will return the trucks to ICTA, which will then transport them to the dealers.
Visit www.betterroads.com/info
Impact Recovery Systems
Enhanced conspicuity at crosswalk
The Ped-in-a-Bag pedestrian sign from Impact Recovery Systems provides enhanced conspicuity at crosswalks in accordance with the Manual on Uniform Traffic Control Devices (MUTCD), in order to alert motorists to local laws concerning yielding to, or stopping for pedestrians in crosswalks. This sign's lightweight design (26 pounds, including sign and base), and quick release system allows the sign to be removed from the base in less than five seconds. It also is easily transported and features Impact Recovery Systems' patented, anti-twist reactive spring system that returns the unit to its original position after impact.
Visit www.betterroads.com/info
Pile Dynamics
Keeps cables neatly organized
Pile Dynamics has developed the Motorized Probe Deployment System (automated reels) that works with its Cross Hole Sonic Logging (CSL) testing equipment, the Cross Hole Analyzer. In addition to sparing the testing engineer from constantly handling wet and often cold cables, the Motorized Probe Deployment System keeps the cables neatly organized on the spool, and allows the tester to gather information at a consistent speed, (this reduces the possibility of missed data points due to too fast of a pull). The system is powered by either an eight-hour duration battery or by an external 12-volt power source.
Visit www.betterroads.com/info
Volvo construction equipment
Smaller machines with larger performance
The L45G and L50G wheel loaders from Volvo Construction Equipment are in the 9- to 10-ton machine weight class — but with the versatility and performance of much larger models. Both models meet Tier 4i emissions and are fitted with the Volvo four-cylinder turbocharged off-highway diesel engine. The L45G and L50G feature the latest emissions-compliant engines and Volvo patented TP Linkage, ensuring high breakout force and parallel movement throughout the entire lifting range. This combination gives high tilt-back torque and lifting power, increasing productivity when loading or rehandling. The progressive lift helps retain loose bucket material and minimizes disturbing the load when lifting pallets.
Visit www.betterroads.com/info
Wilk Electronics
Scale fits any excavator
The Wilk Electronics W3X Excavator Scale is built to fit any style of excavator. It has a 5.7-inch-high contrast screen and dual pressure sensors and multiple angle sensors with speed in motion sensing, giving accurate readings for any excavator. Data logging is also available with a built in USB port allowing for the storage of customer and product data, truck numbers and a variety of other information. The same port is also used for the installation of new W3X software.
Visit www.betterroads.com/info
REAGCO
Tires as innovative road base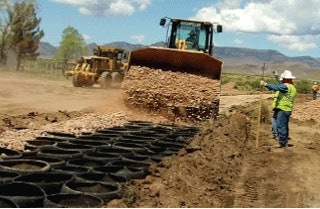 Mechanical Concrete is built with cylindrical tension bands created from used auto tires from which both sidewalls have been removed. These cylinders are placed side-by-side on the ground covering a road's foundation and nailed together into a grid. When appropriately-sized stone aggregate is poured into the cylinders, the stones tightly lock together and behave as a solid, immovable mass. This construction method uses less stone, requires no compaction or curing, and is instantly ready to support construction loads.
Visit www.betterroads.com/info
Volvo Construction Equipment
Critical diagnostic trouble codes are provided remotely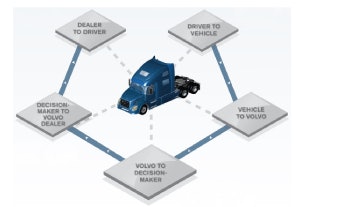 Volvo Construction Equipment's Remote Diagnostics provides proactive diagnostic and repair planning assistance with detailed analysis of critical diagnostic trouble codes. The remote communication platform facilitates live dealer and customer communication through Volvo Action Service, Volvo's 24/7 support team. Proactive diagnostics streamline service procedures with confirmation of parts on-hand before a truck arrives at a service location, increasing uptime.
Visit www.betterroads.com/info
East Manufacturing
All-aluminum drop deck trailer
With the new low-height all-aluminum drop deck trailer with a low-slung 36-inch deck height, there is less need for partial dismantling of the load to get it below the 13-foot-6-inch maximum legal height. The 36-inch drop deck height has a lower center of gravity, providing the trailer with improved stability, which increases in value the more unusual the size and shape of the load. The trailer is available in multi-axle configurations, in lengths up to 53 feet.
Visit www.betterroads.com/info
Association of Equipment Manufacturers (AEM)
Aerial platform safety manuals for Quebec
The Association of Equipment Manufacturers (AEM) now offers French Canadian versions of its Aerial Platform Safety Manual and Aerial Devices Safety Manual to help equipment manufacturers comply with government language requirements for distributing products in Quebec. The two manuals outline possible responses to basic safety situations that may be found during normal equipment start-up, operation and maintenance. The new safety manuals are published in an illustrated format of sensible do's and don'ts. The AEM manuals are not a substitute for original equipment manufacturer operation guidelines.
Visit www.betterroads.com/info
John Deere
No second lever for MP buckets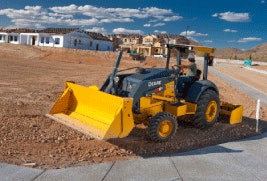 John Deere's K-Series backhoes – 310K EP, 310K, 310SK, 310SK TC, 315SK, 410K, 410K TC, 710K – and tractor loader models – 210K EP, 210K – are powered by a certified Tier 4i/Stage 3B John Deere PowerTech engine and come equipped with a five-speed transmission that allows top speeds of 25 mph when roading. An optional AutoShift transmission enables smooth shifting and improves operator comfort by reducing the number of times the Transmission Control Lever (TCL) needs to be actuated during operation. A single loader lever with integrated electro-hydraulic (EH) auxiliary loader control eliminates the need for a second lever when using a multi-purpose bucket. A complete redesign of the cab ventilation now circulates cab air from front-to-back.
Visit www.betterroads.com/info
Freightliner
App has dealer locator, events, specs and more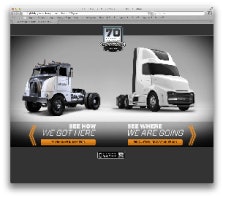 Freightliner Trucks' new free app for smartphone users to commemorate the company's 70th anniversary, also offers a suite of functional tools for drivers. The app includes a dealer locator with an interactive locator complete map, contact information, services, hours of operation, real-time, dealer-specific special offers, event listing (which allows app users to access Freightliner's schedule of trade shows and special events) and product information. For quick reference, Freightliner's truck models and base specs are featured on the app, as well as a gallery of truck images.
Visit www.betterroads.com/info
Miller Electric
Re-engineered welders
Miller Electric Mfg. has re-engineered its Bobcat line of engine-driven welders. Sound on the newly-designed Bobcat models is reduced by as much as 33 percent, and the machines are up to 5 inches shorter and 55 pounds lighter (depending on the model). The electronic fuel injection (EFI) option with the Bobcat 250 also reduces fuel use by as much as 27 percent compared to carbureted models, according to Miller Electric.
Bobcat 250: The industry's best-selling engine-driven welder/generator offers 40 to 250 amps (275 amps with w/EFI option) for both DC Stick/TIG and AC TIG/Stick applications, and 17 to 28 volts of output power when matched with a wire feeder for MIG or Flux-Cored welding. Rated at 104 degrees F, the machine offers 11,000 watts peak and 9,500 watts continuous power, or 12,000 watts peak and 10,500 watts continuous power with the EFI option.
Bobcat 225: Also rated at 104 degrees Fahrenheit, the 225 offers 50 to 225 amps of DC Stick/TIG output, 70 to 150 amps of AC TIG/Stick output, and 19 to 28 volts of MIG and Flux-Cored output. Similar to the Bobcat 250, it offers 11,000 watts peak and 9,500 watts continuous power.
Bobcat 3 Phase: Designed specifically for farm and ranch owners who need three-phase power to run 480-volt three-phase pivot irrigation systems or to provide backup power. The machine offers 11,000 watts peak power and 10,000 watts continuous three-phase power, single-phase 120/240 VAC 10,500 watts peak power or 9,500 watts continuous, 50 to 225 amps of Stick/TIG welding output, and 19 to 28 volts for MIG and flux-cored welding. The redesign on this model offers up to a 25 percent reduction in noise, is 5 inches shorter and is 45 pounds lighter.
Visit www.betterroads.com/info