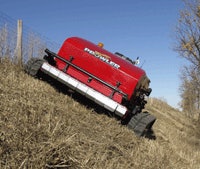 Tiger Corporation and Progressive Turf Equipment (PTE) today jointly announced a major new distribution partnership for the PTE North American designed and manufactured remote controlled SLOPE-PRO™ mower in North America.
The SLOPE-PRO™ mower will be marketed as the "Tiger Prowler". This revolutionary product allows the operator to safely maintain areas that have been challenging to mow. With a 52" wide cut, the mower can operate on side slopes up to 50⁰ and has a working range of 300' from the remote control.
Recognized as the premier manufacturer of Turf and Grounds Care pull behind rotary mowers, PTE has been marketing products across North America under their name brand since 1979. Tiger Corporation, one of the market leaders in roadside mowing equipment and related vegetation control attachments, has been manufacturing and distributing their products through their dealer network since 1968.
"This alliance is just the next step in Tiger's continued commitment to municipal and contractor vegetation management in North America", said Shawn Cleary, President of Tiger Corporation. "This new alliance between the two strongest players in their respective markets will pay great dividends in product selection and reliable distribution for our dealers and their municipal customers."
"We are pleased to be able to market the SLOPE-PRO™ through the Tiger Dealer network", said Luke Janmaat, President of Progressive Turf Equipment. "This mower is ideally suited to many applications, especially those in the municipal market, and Tiger's commitment to that market is superb".
Tiger Corporation is an Alamo Group Company located in Sioux Falls, SD and Progressive Turf Equipment is located in Seaforth, Ontario Canada.
About Tiger Corporation
Tiger Corporation began operations in 1968 with a tractor mounted side rotary mower. Since that time, Tiger has been committed to the roadside vegetation management market. Tiger offers a wide selection of tractor mounted side and boom mowers, truck mounted boom mowers and a variety of attachments to assist users to complete their mowing tasks. Tiger strives to be the market leader in the industry and their motto of "Innovative Solutions" continues with the offering of the Prowler SLOPE-PRO™. For more information on Tiger, log on to https://www.tigermowers.com/ or contact Les Slunecka, Marketing Manager at 605.731.0448.
About Progressive Turf Equipment:
For over 30 years, Progressive Turf Equipment has been supplying innovative, rotary, finishing mowers to turf grass producers, golf courses and municipalities around the globe. Our investment in the latest 3D CAD software, integrated ERP system and CNC manufacturing work cells, drives our customer commitment to provide high quality products that deliver unmatched Productivity, Reliability, Durability and Quality of Cut. Find the right Progressive mower for your application at https://www.progressiveturfequip.com/
We offer five product families for various applications:
SLOPE-PRO™ – steep slope mower for hazardous, demanding or labor intensive areas
ProFlex – two versions of contour mowers for golf courses
TD – several tri-deck wide area mowers ranging from 12' to 36' for sod production, park and recreational areas
TDR – three sizes of tri-deck wide area roller mowers for sports turf venues and sod production applications of all sizes
SDR – two – 3 pt hitch single deck mowers for smaller sports and turf fields
For more information on Progressive Turf Equipment, log on to https://www.progressiveturfequip.com/or contact Brian Lowe, Director of Sales & Marketing at 519.527.1080.