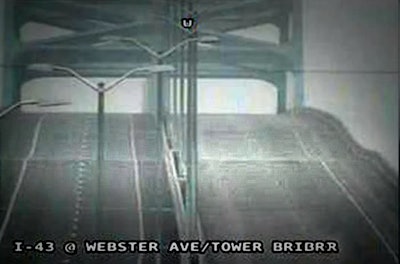 Police closed Wisconsin's Leo Frigo Bridge on Wednesday after a 400-foot section of the span began to sag, according to a report from CNN.
The bridge, formerly known as Tower Drive Bridge, carries about 40,000 cars daily on Interstate 43 over the Fox River.
Governor Scott Walker said one of the bridge's supporting piers sank about 2 feet into the ground.
Today's TMJ4 reported that the bridge is sagging by at least three feet.
Officials said the bridge will be closed indefinitely.
According to the CNN report, the bridge could take several years to repair.
Kim Rudat, regional communications manager for the Wisconsin Department of Transportation (WisDOT), told CNN the 32-year-old bridge was inspected in August 2012, when inspectors deemed it sound.
WisDOT recently renovated the span. According to the agency's website, construction began in May 2012 and was completed around July 2013.
Officials said the Leo Frigo Bridge is not in danger of collapsing.
To hear the calls placed to dispatchers about the sagging bridge, check out the Green Bay Press Gazette's coverage of the bridge closure.