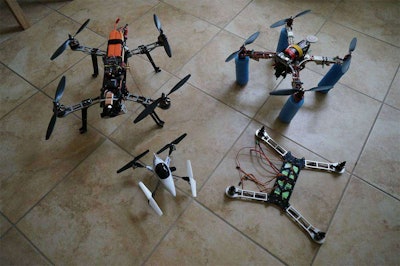 Centuries ago some people thought the world would be taken over by robots and flying cars by now. They may not have been 100 percent correct, but they weren't completely wrong either. When it comes to highway and bridge construction, flying robots may start playing huge roles.
Javier Irizarry, associate professor at Georgia Tech's School of Building and Construction, and director of CONECTech construction technology lab, received a $75,000 grant from the Federal Highway Administration and the Georgia Department of Transportation (GDOT) last year to study the potential uses of drones, or UAVs (unmanned aerial vehicles) in highway construction.
Unfortunately, Irizarry's work did not come without criticism. The term "drone" seems to freak some people out. The term carries negative connotations — many of them militaristic. The term is also frequently used incorrectly.
"It's unmanned, not completely autonomous" Irizarry says. He explains that the term drone, technically, only applies to aircraft that fly independently of human control. "What we have been looking at for our research here is the UAV. Not the autonomous vehicles."
Whether you want to call the little flying robots drones or UAVs, it didn't affect Irizarry's research. Irizarry and his students spent about a year exploring ways the UAVs could make everyday DOT tasks more efficient.
To create a running list of tasks to try out with UAVs, the research team interviewed about 20 people at various levels within the GDOT. Of the tasks mentioned by GDOT employees, many had to do with ways to more easily monitor and manage traffic such as using UAVs to assist in traffic light programming, getting fast and more comprehensive views of wrecks and even monitoring how well airports accommodate landing aircraft.
Two of the tasks Irizarry and his students grappled with involved road construction. One involved using UAVs to visually verify steps in road work such as counting the number of stripes painted along a newly paved road or counting the number of guard rails installed. The other involved making bridge inspections easier and more thorough.
"There's a job the DOT has to do that requires inspectors to visually inspect the underside of bridges. They can do that from underneath from the supports but that only allows you to see only so much, particularly if the bridge is long and over water," Irizarry says. He explains that by flying UAVs beneath the bridge, inspectors can get a detailed view of the bridge components in far less time.
Irizarry will be publishing much of his lab's findings from the DOT study in the next year. And though that study has ended, he and his students are still running experiments and exploring use cases of UAVs on construction jobsites, focusing mainly on safety management applications.
UAV technology will only get better with time. Irizarry says he expects things to only get better in the next five or 10 years. However, the Federal Aviation Agency (FAA) must first change its regulations on Unmanned Aerial Systems (UAS). Right now the FAA prohibits the use of all unmanned aircraft for commercial use without the agency's express approval. But those guidelines were originally designed for model aircraft and the definition of "commercial use" isn't always cut and dry.
With the exception of a few experimental and academic research approvals granted by the agency, the result has been several UAV pilots receiving cease-and-desist letters and, in some cases, lawsuits from the FAA, though at least one of those incidents have been struck down by federal judges. Even drone schools, degree programs where students learn to pilot the aircraft, aren't allowed to fly drones at all, forcing instructors to teach using simulators.
The FAA has said that it plans to allow commercial UAS use once it has drawn up proper regulations for the aircraft. The deadline for those regulations is some time in 2015.
"Once the FAA finalizes its regulations, a gun's going to go off and everybody's going to race. There are already academic programs that we've seen. (Embry-Riddle Aeronautical University) already has a drone degree," Irizarry explains. "I'm sure that you know how surveyors used to use a simple measuring line. Now they use total stations and GPS rovers. You can imagine a specialty trade would adopt something like this to maybe do surveys with UAVs. Some will add the technology to professions that already exist but new professions or trades could arise that use just the UAV."
Editor's note: This article was written with research done by Wayne Grayson, Online Managing Editor of Equipment World.