A truck hauling an excavator caused some major problems for the Washington State Department of Transportation after colliding with five freeway overpasses. Cost of the repairs have not yet been determined, but all five bridges will need to be repaired.
"It's too early to say how much the repairs will cost," Doug Adamson, WSDOT spokesman said. "And WSDOT will seek to cover the bills from the party responsible for the damage."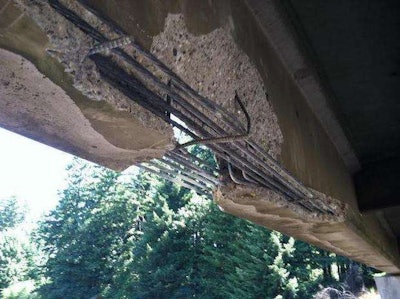 The driver, George Russell, 45, was driving a 1994 Kenworth dump truck hauling an excavator southbound on U.S. Highway 101 when the excavator's boom crashed into the first overpass. He continues driving southbound in Interstate 5, hitting four other overpasses.
Russell says he pulled over at one point after feeling some "surges" but he was unaware that he hit anything and kept driving.
Two vehicles struck by debris from the collisions ended up with flat tires. Luckily no injuries were reported.
Although all five bridges are in need of repair, no traffic restrictions were placed.
"While the five bridges were damaged, it's very fortunate the truck did not damage the bridges' main beams — called strands — in any of the overpasses," Adamson said. "The areas that were damaged were the bottom flanges which are designed to protect the strands."