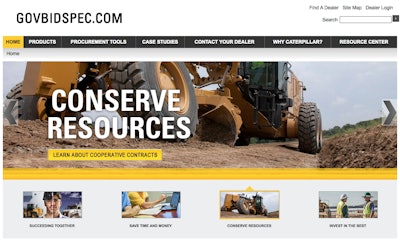 .Caterpillar has announced that it has added new tools and resources to GovBidSpec.com with a goal of aiding state and local governmental buyers make equipment purchasing decisions.
The company added RFP Builder to the site, allowing users to quickly create RFPs for vendors. Agencies can select exactly what they want to include in their request for proposal, including questions about product features, pricing, financing options and more. Then, based on the selected questions, users can generate a Word document that can be further edited and customized.
Also new to the site is the Resource Center, a library of guides, tips and other materials. Topics include total cost procurement, cooperative purchasing, safety and financing alternatives for governmental entities.
Additionally, the company added a "Why Caterpillar?" section that includes links to information about Cat support, safety and training resources, financing options and more.
For more details, visit GovBidSpec.com.