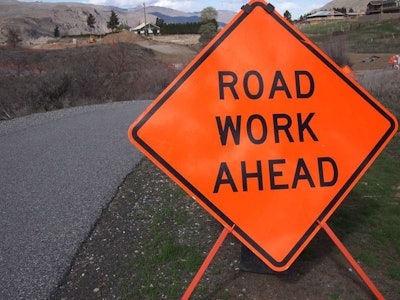 Illinois Governor Pat Quinn on Wednesday unveiled a six-year $8.6 billion construction program that aims to improve highways, infrastructure and public transportation throughout the state.
"A booming economy requires a 21st century infrastructure," Quinn said. "Our infrastructure plan will create thousands of construction jobs now while paving the way for more jobs and economic development in the future."
The program builds on Quinn's Illinois Jobs Now! capital construction program.
The highway improvement program includes hundreds of projects that will improve 1,845 miles of highway and replace or rehabilitate 384 bridges from 2015-2020.
Some of those highway and bridge funds include:
$308.6 million for construction of a new I-74/US 6 bridge in Moline

$107.9 million for bridge replacements on the Stevenson Expressway in Chicago

$110 million for the Alton-Godfrey Expressway

$204.4 million for US 150 improvements including a bridge replacement in Peoria

$76.4 million for bridge replacements along I-80 in Will County

$71 million for a new I-64 bridge over the Wabash River in White County

$29 million to reconstruct IL Rt. 2/North Main in Rockford

$52 million for work on I-74 near Champaign and Danville

$65.2 million for work on IL Rt. 47 in Kendall County

$27.8 million for resurfacing and bridge work on I-72/US 51 in Decatur

$27.7 million for improvements to I-72 between New Berlin and Chatham Road in Sangamon County

$73.9 million for I-70 resurfacing and bridge repair in the Effingham area

$36.2 million for I-57 road and bridge work around Kankakee

$65 million for improvements to Route 104 in Morgan and Pike Counties
In addition to road and bridge improvements, the projects allocates $1.85 billion for public transportation and $800 million for airports with $161 million for fiscal year 2015.
Public transportation and airport funds include:
$60 million to re-establish passenger rail service, which includes a new station in South Elgin for the Chicago-Rockford-Dubuque Corridor in Cook, DuPage and Kane Counties

$585.1 million to purchase up to 160 Electric Highliner Metra Commuter Cars

$222 million to provide new intercity passenger rail service between Chicago and Moline for the Chicago-Quad Cities-Iowa City Corridor in Cook and DuPage Counties

$132.6 million for the Englewood Flyover to reduce Amtrak, Metra and freight passenger rail congestion

Funding to continue land acquisition and pursue final approval of the South Suburban Airport with the Federal Aviation Administration

$2.45 million to purchase four 35-foot diesel buses, three super medium duty diesel buses, eight medium duty diesel buses and one minivan for replacement for the Southeastern Illinois RIDES Mass Transit District
Illinois Transportation Secretary Ann Schneider said the program is important to support jobs in the coming years, especially because the Highway Trust Fund may not be able to help pay for state projects after this summer.
"We have made tremendous progress the past few years toward improving the state's transportation infrastructure," Illinois Transportation Secretary Ann Schneider said. "However, with federal revenue sources dwindling and the end in sight for Governor Quinn's Illinois Jobs Now! program, I look forward to supporting the Governor's call for a bipartisan working group to find ways to continue this progress."
Illinois' fiscal year 2015 begins July 1, 2014. Funds allocated for fiscal year 2015 through the new program include $1.88 billion for road projects, $1.85 billion for public transportation, $2.7 million for rail and $161 million for airports.
The entire six-year plan provides a total of $5.82 billion to state highway system improvements and $2.77 billion to local transportation needs.
Additionally, the plan includes $6.99 billion in anticipated federal funds, $1.16 billion in state funds and the remaining $450 million from local and other sources, plus $158 million for road and bridge projects from the Illinois Jobs Now! program.