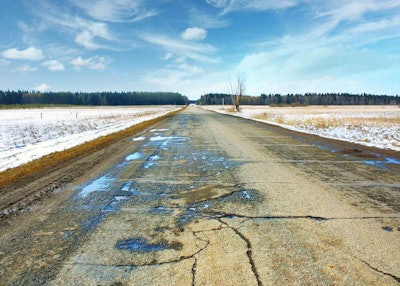 I don't know about you, but I'm ready for spring weather. Sure, I love winter sports and playing in the snow with my kids, but this winter has been particularly rough with extreme winter weather. It has certainly done a number on our roads, too.
The potholes that come out of the freeze-thaw cycles (or what seems like arctic freeze then thawing to still below freezing weather) this year seem more like giant holes or craters in some areas.
Pothole patching is a given, but according to Schneider Electric, the long and snowy winter may affect weather this coming spring.
With the chill and snow lingering until April or May, severe weather across the U.S., and wet weather in the Southeast, it's important to plan ahead for a possibly volatile spring.
Jeff Johnson, Schneider Electric's Chief Science Officer, will host a free webinar on March 18 at 11 a.m. CDT to offer guidance on how to be best prepared to handle the weather challenges during the upcoming spring.
The company says it plans to cover the following topics:
Lingering chill and snow,

Severe weather across the U.S.,

Wet conditions in the Southeast,

Anticipated temperatures, and

Precipitation estimates.
To register for the webinar, click here.