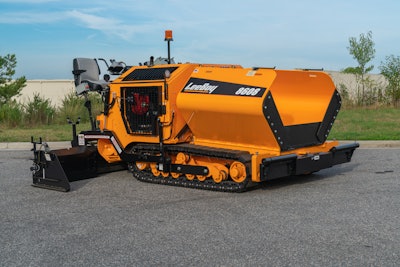 LeeBoy
LeeBoy says it took its most popular paver, the 8520C, and gave it a smoother ride and made it easier to maintain with its new 8608 model.
The company plans to keep the 8520 in the lineup. The 8608 is a response to customers' requests for a commercial paver with a heavier track and less maintenance, said Brian Hall, LeeBoy asphalt training specialist, at ConExpo 2023.
LeeBoy beefed up the undercarriage and gave it an Oscillating Bogie Style Track System, which delivers 72 inches of ground contact. "That's important for our commercial guys that are always not doing overlays, they might be on sand, dirt, aggregate," Hall explains. "So you need that wide stance to keep your psi down."
LeeBoy says the paver is designed for heavy commercial paving and large volume jobsites.
With the oscillating bogies the tractor can ride over an obstacle more smoothly, which keeps screed operation smoother for improving mat quality, the company says.
The tracks are the same as on the larger 8616 paver but in a smaller version and are wider apart for additional clearance when riding over utilities.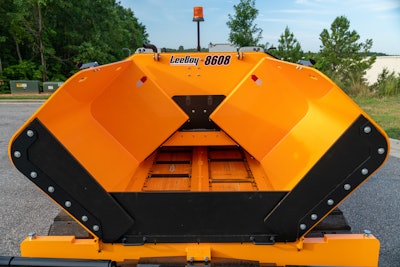 The 8608 also gets a narrower conveyor than on the 8520, along with heavy-duty chains similar to those on highway class pavers.
"Now what this does for the customer," Hall says, "he has to run his chains a little bit faster than he would with our wide conveyors. But he has less maintenance because there's nothing underneath to have to clean out as with our wide conveyors."
The 8608 has dual 20.5-inch feeder conveyors, compared to the 8520's dual 36-inch conveyors.
LeeBoy offers narrow conveyors on its larger pavers, 8616D machine and the 6150, "but wanted to bring the narrow conveyor concept, coupled with high production, to a more compact paver," says Chris Broome, senior product manager at LeeBoy.
The 8608 runs on the same 125-horsepower Kubota diesel engine as the 8520. Tier 4 Final emissions standards are met with diesel exhaust fluid, diesel particulate filter and selective catalytic reduction.
Control panels are also the same on the new paver with toggle switches. The operator's platform has a choice of high or low deck controls with electric steering. All control switches are located in one box that can be slid to each side. A color graphic control screen shows digital readouts of such information as oil pressure, hour meter, fuel gauge, voltmeter, water temp, tachometer, hydraulic oil temp, engine diagnostics.
Customers can choose from two different screeds. It comes standard with LeeBoy's Legend HD Screed, which weighs 3,750 pounds and paves at a width of up to 15 feet. It can also pave with LeeBoy's new HD Pro Screed, which weighs 4,150 pounds and has a max paving width of 15.5 feet. Hall says the HD Pro also has spring-loaded gates and more of the same types of functions found on highway class pavers.
The paver can maneuver in tight spaces and has low-profile selective catalytic reduction and exhaust and a flat hood for better operator visibility and maintenance access, the company says.
Other features include a 14.4-kilowatt belt-driven generator, 12-inch-diameter quick-change auger assemblies and optional smooth rubber tracks.
"All this came from listening to the customer tell us what we can do to improve our 8520," Hall says. "The 8520 right now is our bestselling paver. And according to our dealers, they believe that 8608 may actually surpass that, but it's not going to take the place of an 8520."
Quick specs:
Total Weight: 21,920 lbs.
Engine: 125-hp Kubota, Tier 4 Final
Paving width: 15' (HD screed) 15' 6" (HD Pro)
Paving depth: 0-6"
Hopper size: 9 tons
Width: 8' 6" transport
Height: 6' 10" high deck
Length: 15' 3" (14' 3" transport)