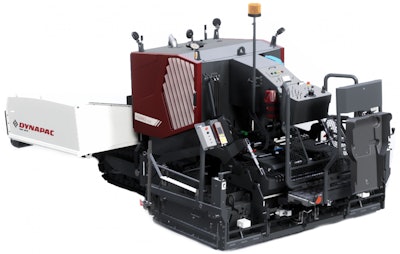 Dynapac
When it comes to paving in tight spaces, Dynapac's new F1250CS Plus offers not only a compact size but wireless remote control.
The compact paver can lay an asphalt mat as narrow as 20 inches and as wide as 11.5 feet.
But what sets it apart is the ability to operate it by remote control, away from the asphalt fumes that can make work in a confined space unhealthy. The remote option also enables the operator increased visibility, safety and paving quality, the company says.
The RC360 remote control comes with ergonomically designed shoulder straps, as well as a case and charging devices with a mechanical connector for external supply.
For safety, the remote control automatically shuts off the paver when the operator moves more than 32 feet away. And if the remote tilts higher than 45 degrees, the paver automatically shuts down.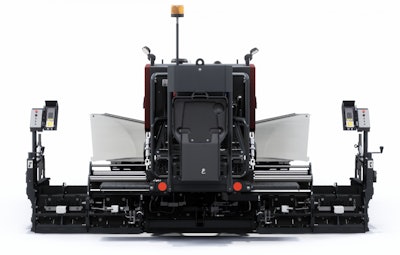 For paving quality, Dynapac says it gave the F1250CS Plus its best-in-class V2400 screed. The company says its high-end screed can be heated by gas or electric and delivers the same quality and performance as its larger screeds. The screed's tamper and vibratory plate are designed for pre-compaction that reduces the number of roller passes.
It also comes with an extension box for various widths and enables multiple adjustments such as the angle of attack and deep bottom plates. That also aids pre-compaction, enabling a smooth surface even with thick layers, Dynapac says. On asphalt rehabilitation projects, the F1250CS Plus can pave nearly 6 inches deep directly from the milling cut to achieve a smooth finish. The screed also has a quick coupling design.
For the operator, the control platform folds up for transport or when paving close to a wall. The dashboard is equipped with toggle switches and a color display. A backrest has been added for comfort, and it has a lockable storage compartment.
Side shields are ergonomically designed, and their height and angle can be adjusted by one crank, which is on top of the side shield.
The paver runs on a 74-horsepower Tier 4 Final/European Stage V Deutz engine, which has an Eco mode for fuel savings. The paver weighs 15,400 pounds with screed.
The Plus model follows the FC1250CS unveiled in 2020, which at the time was the first wireless remote-control paver, Dynapac says.
Check out the video below of the remote-control FC1250CS in action:
Quick specs
Weight: 15,400 pounds
Engine: 74-horspower Deutz
Basic paving width: 3.9 feet
Max paving width with extension: 11.5 feet
Minimum paving width: 1.64 feet
Paving thickness: -5.9 inches to 7.9 inches
Max paving speed: 88.5 ft/min
Standard paver width: 56.3 inches
Paver length: 188.4 inches