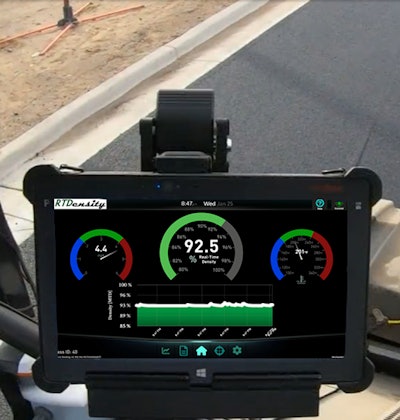 G4 Technologies
A university professor has developed a new retrofit kit for vibratory steel-drum compactors that continuously measures hot-mix asphalt density for newly paved roads. That means contractors won't have to wait until the road is completed and take core samples before knowing if they have achieved the desired mat quality.
"Being able to detect pavement density during construction can save construction companies millions of dollars in labor, materials and time and improve the overall quality of roadways," says the developer of the device, Sesh Commuri, an electrical engineering professor at the University of Nevada, Reno.
Called RTDensity, the device is being manufactured by G4 Technologies and is expected to hit the market in July or August, according to G4's parent company, George Reed International, known as GRI. It was unveiled in March at ConExpo.
RTDensity uses artificial intelligence and combines compaction estimates with high-resolution GPS and surface temperature profiling, which is then displayed on an in-cab monitor. It is also synched to the cloud for remote monitoring and generating reports and maps. The roller operator can see the pavement's quality on the screen in real time and make adjustments along the way. The device also displays mat temperature during each pass, roller speed and pass coverage mapping.
"Roller operators can now easily determine the quality of the pavement during compaction and make necessary adjustments to achieve target density and avoid over- and under-compaction of the mix," says G4 Technologies. "Contractors can verify quality and productivity during the construction process instead of waiting till the construction is completed."
RTDensity can be retrofitted to any vibratory steel-drum roller in a simple process that takes about an hour, the company says. It is then calibrated during construction of a control stretch of pavement. After that, it can take a continuous estimate of density and stiffness during compaction. It then provides documentation of the compaction quality that the company says can be verified through in-situ testing.
"RTDensity … gives roller operators real-time information about the quality of the construction and can generate a report for the densities over the entire road," says Garrett Winkelmaier, a technology development manager at G4 Technologies and former student of Commuri's. "In general, intelligent compaction has been sought-after by this industry for over six decades, and RTDensity is the first product that addresses this need and can be purchased 'off the shelf' and retrofit to any steel-drum roller already being used at construction sites."
Check out the video below by G4 Technologies of RTDensity in action: